'Big Brother 19': Jessica Graf is evicted and leaves Cody Nickson behind
After Jessica Graf was evicted from the Big Brother house, she answered some questions from fans.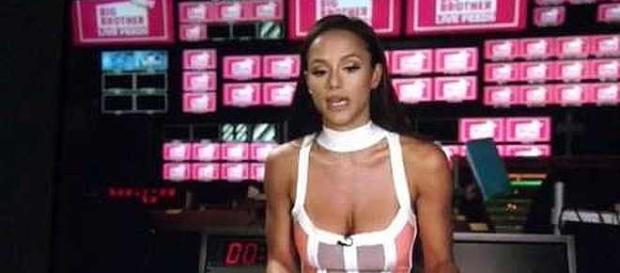 Jessica Graf was evicted from "#Big Brother 19" on Thursday night, August 10. She knew it was going to happen. In her final speech, she ended by saying, "Bring me home, Julie." Then when she was on stage talking to host Julie Chen [VIDEO], she cried. She said the tears were not because she was evicted. Instead, she shed tears because she had to leave #Cody Nickson behind.
Jessica was sent home with a 7-1-0 vote. Elena received no votes. Raven received only one vote, and that one was from Cody. Jessica received all the rest. Elena was Josh's target and not Jessica, but after the announcement was made that Jessica would be leaving, Josh broke out in his circus song.
Cody picked up Jessica and carried her to the door. She didn't say goodbye to the other houseguests she had spent about two months with.
Interview with Julie
Julie asked Jessica why she gave up during the last week and did not try to convince others not to vote for her. She explained that she had been attacked, lied to and backstabbed. The 26-year-old VIP concierge pointed out how Josh had mocked her when she won Head of Household on the anniversary of her father's death. Jessica added that she was not going to follow Paul like the other houseguests. When she tells Julie that she loves Cody, Julie tells Jessica that he loves her too.
The newly evicted houseguest did not sugarcoat her dislike for Josh. After hearing Josh's goodbye message, she said she is glad she doesn't have to hear that voice again.
She also had a dislike for Alex who is now the Head of Household after she won the last competition.
Jessica emphasized that she and Cody will see each other in the real world when he gets out of the house. Since Jessica left, Cody is moping around looking very sad. He looks worse without Jess than she looked when he was evicted earlier in the game before he returned after winning the Battle Back competition.
Fans' questions
After her eviction, Jessica answered questions that had been submitted by her fans and viewers of "Big Brother 19." She answered them but in a way to make herself look like the victim of most of the houseguests. She said Cody is the only one she will miss.
When asked who was playing the best game, she said it was Paul who was puppeteering everyone in the house except her and Cody. She added that Elena was playing a good game until she became friends with her and Cody. Things change, and the others couldn't trust her any longer. A fan asked if she could do it all over again what would she do differently. Graf said when she and Cody first became involved, they still played separate games. If they had aligned themselves sooner, they could have made better moves. #Jessica Graf