'Daily Show' comedian to host White House Correspondents' dinner
Hasan Minhaj headlining event which President Trump will not attend this year.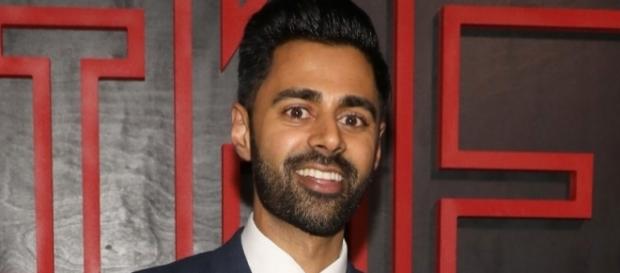 "The Daily Show" comedian Hasan Minhaj is set to host the annual White House Correspondents' Association dinner this year. With President Donald Trump staying far away from the event, Minaj referenced the president's Twitter style in his announcement.
No Trump
"The Daily Show" comedian made his announcement on MSNBC's "Morning Joe," saying that the dinner would be "different" without Donald Trump. The April 29 event will be "focused on the First Amendment and the importance of a robust and independent media," according to WHCA President Jeff Mason.
In a press release on Tuesday, Hasim Minhaj said that it was a "tremendous honor to be a part of such a historic event even though the president has chosen not to attend this year.
SAD!"
"Now more than ever, it is vital that we honor the First Amendment and the freedom of the press."
Donald Trump was infamously the butt of jokes from then President Barack Obama's 2011 White House Correspondents' Association dinner.
President Trump announced back in February that he did not plan on attending the event, using his Twitter account.
I will not be attending the White House Correspondents' Association Dinner this year. Please wish everyone well and have a great evening!

— Donald J. Trump (@realDonaldTrump) February 25, 2017
Administration officials were "encouraged" to turn down invites to the WHCA dinner as well in "solidarity" with the president, CNN reported.
Less celebrities
The annual event will take place on April 29 at the Washington Hilton.
The White House Correspondents' Association dinner is a black-tie scholarship dinner typically attended by journalists, politicians, and other big names in Washington.
Minhaj, 31, will stand before the attendees and provide entertainment for the night, just as famed comedians Jimmy Kimmel, Cecily Strong, Seth Meyers, and Stephen Colbert have done before.
It has also been reported that there have been significantly fewer Hollywood celebrities and people in the entertainment industry attending the dinner and weekend's worth of parties this year. Hasan Minhaj is not quite as well known as the comedians in the past who have taken on the White House dinner hosting gig.
My full set from the Congressional Correspondents Dinner #RTCA2016: https://t.co/Tan6bk34O4

— Hasan Minhaj (@hasanminhaj) June 16, 2016
This means that there will be no opportunity for President Trump to be roasted on live television.
However, WHCA President Mason claimed that the intention of the dinner was not to roast the president anyway because that wouldn't be "fair."
A Muslim comedian invited by the press to roast the president. @realDonaldTrump you gonna let this slide? https://t.co/Gupfi1y3pz

— Trevor Noah (@Trevornoah) April 11, 2017
An entertaining dinner
Instead, Mason claimed that he was "looking for somebody who is funny and who is entertaining, because I want the dinner to be entertaining, but who can also speak to the message that the whole dinner is going to speak to ... the importance of a free press." Carl Bernstein and Bob Woodward are also set to speak about the First Amendment at the White House Correspondents dinner this year.
Minaj has been a senior correspondent on 'The Daily Show' for two and a half years. He wrote and performed in the off-Broadway show "Homecoming King." Netflix is also set to release a version of the one-man show this spring onto the streaming service.
I am loving @TheDailyShow's correspondents roster rn, esp one @hasanminhaj, with whom I talked about a buncha thingshttps://t.co/50UHheA1rx

— Inkoo Kang (@inkookang) March 14, 2017
However, the comedian does have some experience performing in Washington.
Last year, Minhaj performed at the Radio and Television Correspondents' Dinner.
Click to read more
and watch the video
or