Watch the video of the news article
Don't miss our Facebook page!
Like Blasting News page on Facebook: we will keep you updated with all the latest news.
During the first few seasons of Bravo's "The Real Housewives of New York," viewers watched best friends jill zarin and bethenny frankel stick together through the drama with the other cast members, but eventually, the two got into a fight that ended up destroying their friendship. Jill was fired from the show in 2011, just before filming for the fifth season began.
Friends through it all
Bravo fans thought that it would be the end of Bethenny and Jill, but the two recently came together after the tragic passing of Zarin's husband, Bobby.
Bobby had been battling cancer for years and unfortunately, he lost that battle in mid-January.
The Skinnygirl mogul arrived at Bobby Zarin's funeral at Riverside Memorial Chapel in New York City on January 15 wearing black and carrying a bouquet of flowers. Jill later revealed to PEOPLE that Bethenny told her that she "loved Bobby" and got very emotional, which she was not expecting.
Frankel said that she laughed and cried that day and that Bobby's passing made her think about what was important in life.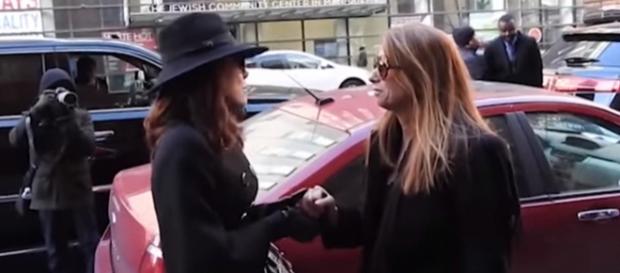 Today is a sad day with a silver lining. I laughed. I cried. I saw old faces & watched a family come together surrounding a loss. "I have a dream" that Bobby's death makes us realize what is important & treat each day as our last.

— Bethenny Frankel (@Bethenny) January 15, 2018
The former friends shared a brief moment together on what was likely the saddest day of Zarin's life.
It appears that the two got together again a week or so after the funeral because Jill posted a collage of photos to her Instagram, thanking Frankel for the "memories tonight."
Zarin posted photos of Bethenny from years ago with her late husband, Bobby, her daughter, and her mother.
She captioned the photo describing the many "1 liners" her husband was known for and asked her followers to share their favorite one-liners.
This could be a sign that Jill and Bethenny are on their way to mending their friendship, which Bobby would have been happy about.
Bobby was responsible for Bethenny's fame
After his death, Bethenny tweeted a few of her favorite sayings that Bobby was known for like, "Here's to those who wish us well. All the rest can go to hell."
"Here's to those who wish us well. All the rest can go to hell." One of Bobby Zarin's favorites. Another one: "It's all good," and Bobby, now it really is... #RIP

— Bethenny Frankel (@Bethenny) January 14, 2018
Frankel revealed after Bobby Zarin's passing that a "Real Housewives of New York" producer had just let her know that Bobby was actually the one who had suggested Bethenny for the reality show.
The first housewives producer who found me in the Hamptons just emailed me to tell me that it was Bobby who suggested me to her for RHONY.

— Bethenny Frankel (@Bethenny) January 14, 2018
"The Real Housewives of New York" provided the businesswoman with a platform to launch her uber-successful company, Skinnygirl. Without her reality stardom, who knows where she would have been today?
"One more...that's it." Bobby Zarin

— Bethenny Frankel (@Bethenny) January 15, 2018
Some Bravo fans are wondering if Zarin would come back to "The Real Housewives of New York" now that she and Bethenny are on better terms.
Click to read more
and watch the video