'Real Housewives of Atlanta': NeNe Leakes in ugly encounter with fan at the airport
Don't miss our Facebook page!
Like Blasting News page on Facebook: we will keep you updated with all the latest news.
Fans of Selena Gomez and The Weeknd were delighted to see them make a rare red carpet appearance together. Although they have been a couple of a few months, they are rarely seen attending events together. In fact, this is the second time that they were seen together for a red carpet event. Their first appearance on the red carpet as a couple was when they attended the MET Gala in May. According to People, Selena showed her all-out support for The Weeknd last Friday at the Harper's Bazaar celebration of Icons By Carine
According to People, Selena showed her all-out support for The Weeknd last Friday at the Harper's Bazaar celebration of Icons By Carine Roitfeld held at The Plaza Hotel in New York City.
The Weeknd, whose real name is Abel Tesfaye, was present during the event not only to perform but to be honored as well. Apparently, the 25-year old singer dropped all her plans that night to play the role of the ever-supportive girlfriend.
Selena Gomez rocked a minimalist look, wearing a rose gold turtleneck dress and accessorized with big silver hoop earrings and coral stilettos. Meanwhile, The Weeknd looked dapper and dashing with his suit accessorized with bejeweled lapels.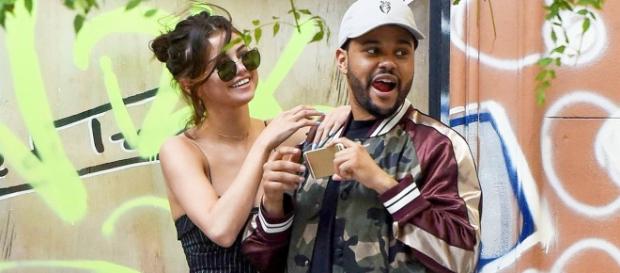 Happy and in love
Initially, fans only learned about Selena Gomez and The Weeknd's relationship with some leaked paparazzi shots. Later on, the couple began posting photos of them together on their Instagram account, further fueling the rumors of their relationship. Eventually, they made their relationship public as they were seen together more often.
Their relationship elicited a mix of opinions from their fans. Some were happy that Selena finally found another man to love, while some were worried that Bella Hadid, The Weeknd's ex-girlfriend, might get mad at her.
During the early days of Selena and The Weeknd's relationship, eagle-eyed fans noticed that Bella Hadid seemed to be sending a lot of shade their way. Aside from unfollowing her ex-boyfriend, Hadid also posted a bunch of photos that seemed to be aimed at the "Bad Liar" singer.
Going with the flow
However, Selena Gomez seemed to be unfazed by the negativities hurled towards her relationship with Tesfaye. According to People, the former Disney darling revealed that she's done trying to hide things from the public.
She cited that it's just causing too much pressure and that everything gets out in the open eventually, so she might as well go with the flow and save herself from the stress and anxiety that hiding something brings along. Fans have noticed that Sel's relationship with The Weeknd might be doing her a lot of good, as the singer is currently looking all bright and blooming despite her health concerns.
Click to read more
and watch the video