Donald Trump lashes out over 'ridiculous' impeachment talk, smears James Comey
Donald Trump is not backing down in his own defense over the allegations of collusion with Russia, while also addressing talk of his impeachment.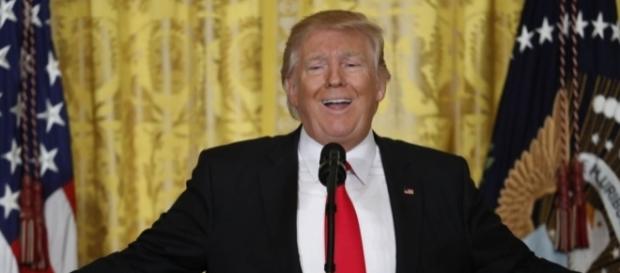 Over the last 48 hours, #Donald Trump has been dealing with non-stop controversy dealing the scandal surrounding #Michael Flynn, #James Comey, and Russia. With the president continuing to deny any wrongdoing, many questions remain unanswered.
Trump on Russia
From the start of his campaign for president nearly two years ago, Donald Trump has been deflecting from allegations that he's linked to Russia. From refusing to release his tax returns, to his kind words about Vladimir Putin, to some of his top advisers and associates being caught with ties to the Kremlin, the former host of "The Apprentice" has come under fire from the mainstream media and his more liberal critics ever since.
In recent weeks, the pressure has continued to mount on the administration, with the controversy gaining steam after Trump fired James Comey as the head of the Federal Bureau of Investigation (FBI). Additional reports have also revealed that prior to firing Comey, Trump attempted to have him back off the investigation into Michael Flynn in regards to his relationship with Russia. The news was red meat for Democrats who have been looking for something close to an alleged "smoking gun" in their opposition to the president. On Wednesday night, it was announced that former FBI Director Robert Mueller was assigned to oversee the current investigation into Russia and the country's possible link to the Trump campaign, leading to an aggressive tweetstorm by the president the following morning. As reported by the New York Post on May 18, Trump took questions on the issue during a joint White House press conference with guest Colombian President Juan Manuel Santos.
(Trump on impeachment.)
As expected, many of the questions directed at Donald Trump were based around the aforementioned Russian scandal, as well as the follow-up report about Michael Flynn and James Comey. After being asked if he personally tried to have Comey look the other way on the Flynn scandal, Trump fired back "No. No. Next question."
The president also said talk of his impeachment was "totally ridiculous" https://t.co/B2aikVjxQl

— New York Post (@nypost) May 18, 2017
"The entire thing has been a witch hunt and there is no collusion between certainly myself and my campaign (and Russia)," Donald Trump said, doubling town on his earlier tweets. Trump continued, repeating his stance that there was "zero" collusion between himself and Russia, while accusing critics of trying to "divide the country." At this point, the commander in chief praised the start he's had in the White House, noting, "We have made tremendous progress in the last 100 and some odd days, tremendous progress."
(Full press conference Q&A in the above video.)
Trump on impeachment
Not stopping there, Donald Trump continued to smear James Comey, saying "(He) was very unpopular with most people." On the issue of his possible impeach, the billionaire real estate mogul replied, "I think it is totally ridiculous.
Everybody thinks so." Despite Trump's best effort to dismiss the allegations against him, it doesn't appear like most Americans are buying into his excuse as his approval rating has dropped below 40 percent in the most recent round of polling.