Lindsay Lohan: Top 10 Twitter memes after face-punch during bizarre kidnap attempt [Video]
Twitter erupted after a weird video by Lindsay Lohan showed she tried to take kids away from parents in Moscow.
1
Lindsay Lohan posted a video on Instagram
Lindsay encountered a family described as homeless, in Moscow. In a bizarre accent, she approached the family, demanding they tell her their story so she could help them. Euronews in English posted the video on YouTube. Fox News reported that when they failed to come with her, she tried to kidnap one of the kids. Shouting they were child traffickers, she got face-punched for her efforts.
2
Twitter wondered if she's lost her mind and erupted with memes
Memes and comments wondered what Lindsay thought she was doing. Plenty of memes are out there and some of the funniest are shown below.
3
The kid looking amazed meme
@TheAleko posted up a meme of a young boy looking amazed and rolling their eyes. The funny meme certainly reflected what the Syrian kids must have thought about Lindsay.
4
Meme about Lindsay when she saw the kids
@Cole_Heart_9327 posted what they thought of Lohan's expression when she first spotted the kids. It's not very flattering!
5
One of the best comments on the bizarre encounter
There were many comments as well. This one came attached to the original video.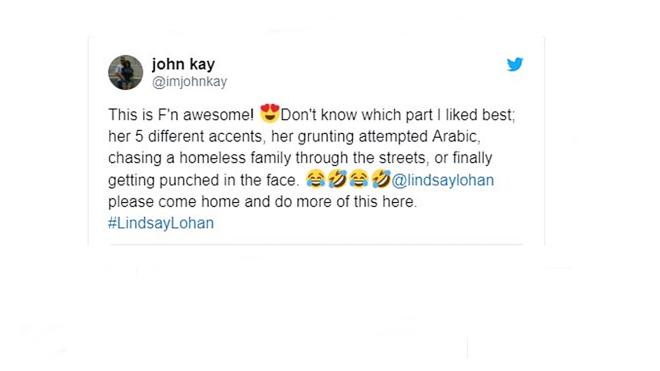 6
The Lohan dumpster fire tweet
One user described waking to the Lohan news as a "dumpster fire."
7
The laughing meme may have been a little unkind
Twitter shows no mercy and this reply meme to Fox News' post showed that really, lots of people are laughing. Others think she should be prosecuted and lot's of them think she would have had less chance of getting a face-punch if she minded her own business.
8
It's ging to be a fantastic October
This one was posted by @TimmFischetti, who thinks october started off well and it should be a "great" month.
9
The simulator controller with their hands full
It's been a bizarre beginning to the month of October, what with Kanye West and SNL, this tweeter noted.
10
The no limits comments and meme
This one showed how people seem unable to get over how weird people are these days. The news of limits overstepped grow every day.
11
Live a week like a star meme
This meme took us back a bit. Y'all remember when Hilary Duff and Lindsay Lohan were feuding over Aaron Carter?
This news article has been verified through:
https://www.foxnews.com/entertainment/lindsay-lohan-gets-punched-in-the-face-after-accusing-refugee-parents-of-trafficking-trying-to-take-the-kids
https://www.thecut.com/2018/09/lindsay-lohan-was-punched-in-face-family-trafficking.html
Click to read more
and watch the video
or