The Samsung Leader 8 flip phone has amazing specs just like any other high-end smartphone.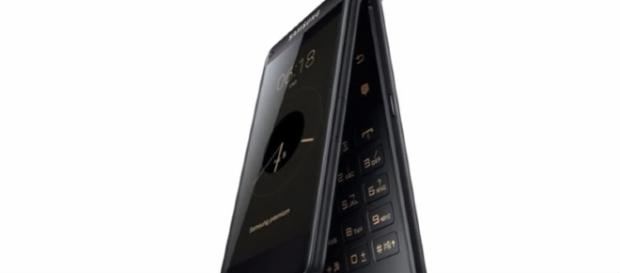 Samsung recently launched its new dual-screen flip phone in China. It is not just a typical flip phone. It also has the company's best features. People might think that flip phones are long gone and out of fashion. But the South Korean tech company proved to us that flip phones are still cool. The phone is called Samsung G-9298 or some call it the Leader 8 or Leadership 8.
Samsung flip phone impressive features
The Samsung Leader 8 runs on the latest Android operating system. It also features two 4.2-inch display screens. Both of its screens are full HD Super AMOLED. The front display allows users to quickly view information such as date, time, or call and text notifications.
The company has not made a huge announcement for its new device but a product page on the Chinese Samsung Website lists the Leader 8's complete specs.
The latest Samsung flip phone has two impressive cameras. It has a 12 megapixel rear camera and a 5 megapixel front camera for taking selfies. The device is powered by Qualcomm's Snapdragon 821 processor, which is the same processor used on the LG G6. The Samsung Leader 8 has a 2,300mAH battery and it also supports wireless charging. It has 64GB of internal storage and 4GB of RAM capacity.
Modern applications like Samsung Pay and S-voice are also built into the device. Users can unlock their phones by using their fingerprints on the device' fingerprint sensor. This is not the first time that the company launched a flip phone. The company also launched a similar device called W2017 earlier this year.
The company has not made any official announcements about the price. Some people say that the Samsung flip phone will only be available in selected countries in Asia.
Galaxy Note 8 release date & rumored features
In other news, Samsung is expected to launch a new smartphone this coming August 23. The device is the most anticipated Galaxy Note 8. The company claims the Galaxy Note 8 will be a better, safer and a very innovative device compared to its previous model. Its camera might also rival some high-end smartphones like iPhone 7 Plus and LG G6.
Gizmodo reports that the latest Galaxy Note 8 rumors claim that it might sport an AMOLED 6.3-inch display with 2960 x 1440 screen resolution. Its aspect ratio might be similar to the Galaxy S8. It might also feature an iris scanner , face recognition, and IP-68 water-resistance.The Galaxy Note 8 might feature a dual-lens camera that has 3x optical zoom capabilities.
Click to read more
and watch the video
or