Motorola spruces up Moto GamePad and Moto 360 camera add-on
These new Moto Mods might change your mind about Motorola's future of modular devices.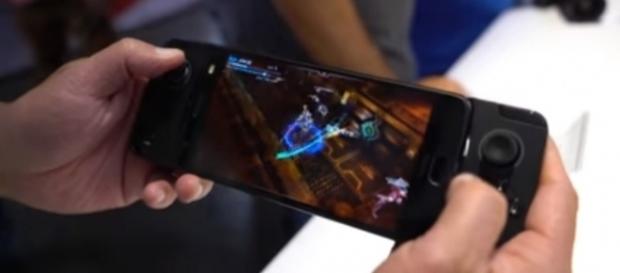 It looks like smartphone manufacturers are running out of design ideas. Some have made no secret of their plagiarism. For instance, the new OnePlus 5 is almost a clone of Apple's iPhone 7 Plus.
Then there's Motorola, which, instead of following in the footsteps of other smartphones, has has decided to continue its modularity on their devices with the addition of their new Moto Mods for the Moto Z series – the GamePad and 360 Camera.
Motorola's new Moto GamePad and Moto 360 Camera
The Moto GamePad is a snap-on accessory for gaming. When the accessory is attached to the smartphone, the whole device becomes similar to the Nintendo Switch. It has two analog sticks on both sides with a single D-pad on the left and also shoulder buttons.
This pretty much turns the smartphone into a handheld gaming device.
Meanwhile, the Moto 360 Camera add-on can be attached to the device magnetically. Once attached, the phone automatically recognizes the Mod and the camera app now has an option to turn on the 360-degree camera.
Is smartphone modularity the way to go?
Modular smartphones never really took off the way phone manufacturers had wanted to. The problem is companies are trying too much to imitate the PCs modularity where components can be replaced at any time.
However, there is one big difference – a PC is a stationary device, which means it rests on a flat table for much of its life. On the other hand, smartphones are carried around the whole day inside a bag or pocket and are constantly thrown around.
Last year, Google even discontinued its Project Ara modular phone concept after being in development for three years already. The company's main problem is that components of the modular device keep falling apart from the skeletal frame of the phone.
LG didn't have much success either with their LG G5 semi-modular smartphone. In this case, third-party manufacturers didn't bother to develop any modular components for the G5, which negates the whole purpose of the technology.
Only Motorola played the modularity game the right with their Moto Z lineup, but with a different approach. The company didn't have replaceable parts like Google's Project Ara, but instead used magnetic contacts on the back of the phone to connect any Moto Mod add-ons.
In addition, there are several other add-ons to choose from within the Moto Z ecosystem, such as the Insta-Share Projector, JBL speaker and a battery pack, just to name a few.
Click to read more
and watch the video
or