Samsung Galaxy Note 8: company official reveals details of fingerprint scanner
Rate this title
The official revealed that the smartphone may not come with an in-screen fingerprint sensor.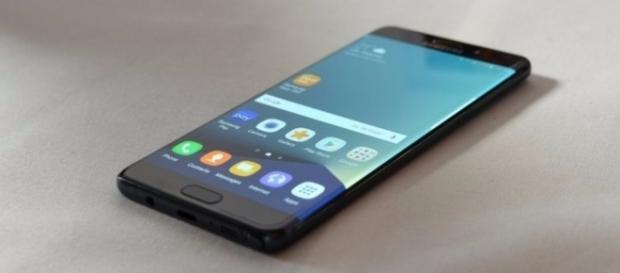 It has been a little more than a month since Samsung launched its flagship Galaxy S8 and Galaxy S8+ smartphones. Since their release, the flagship smartphones have found favor with consumers despite slight issues – such as the red tint one. One of the features that did not go down well with customers was the odd placement of the fingerprint sensor.
Rumors have been rife that the Galaxy Note 8 may have a Fingerprint Scanner embedded underneath the display, but a Samsung official shared that the upcoming handset would not come with an on-screen fingerprint sensor. Naver, a tech publication, claims that its sources have shared that the feature will not be coming on the Galaxy Note 7's successor
Samsung phablet will not sport fingerprint scanner underneath display
The Naver reports that Samsung will not be integrating the fingerprint scanner under the front display.
It further states that even Apple encountered the same problem for its tenth-anniversary smartphone, iPhone 8.
According to a Samsung official, the South Korean OEM made all efforts to install a display-integrated fingerprint sensor on Galaxy Note 8. However, the administration decided against the incorporation of the feature on one of its key device as the on-screen Touch ID was riddled with technical limitations, especially regarding the device's security.
The official also reportedly shared that Samsung won't be giving up on this yet-to-be-perfected technology and will continue to develop and research on the same with companies such as CrucialTec, who have the know-how. For the unfamiliar, South Korea-based CrucialTec manufactures and develops fingerprint scanners and trackpad technologies.
Fingerprint scanner on the Samsung flagships
In the Galaxy S8 and Galaxy S8+, the fingerprint scanner is causing inconvenience to users because of its off placement on the device's rear, below the camera. Although the smartphone comes with other types of security enhancements like the iris scanner, the Touch ID is the most widely-used unlocking technology in the smartphone market currently.
The Galaxy S8 and Galaxy S8+ employ an oval-shaped fingerprint scanner, which is not the same as the ones used by other flagship smartphones like the LG G6, Google Pixel, and iPhone 7.
The present fingerprint scanner on the Samsung flagships is much slower by comparison, and its placement next to the rear camera carries the risk of a user accidentally stamping the camera lens with their finger.
Thus, Samsung fans are hoping that the South Korean OEM places the Touch ID in Galaxy Note 8 below the camera to avoid staining the camera lens. The company could also opt for the front panel placement, possibly in the home button.
Click to read more
and watch the video
or