Here are 3 major reasons why you should skip iPhone 8 for Samsung S8 series
They may be the simplest but they are also the most useful elements you should consider before you get a new smartphone.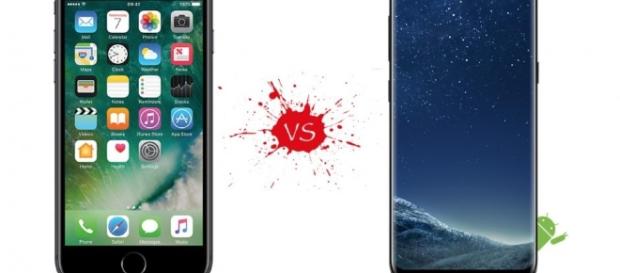 iPhone 8 is making huge waves as of late, occupying large banners and headlines in almost all news and review pages. However, there are some minor considerations being left out regarding Apple's most talked 10-year iPhone anniversary offering. On the other hand, its arch-rival Samsung has already paved the way for what the Cupertino-based company is trying to achieve.
Unimpressive camera build and design
Apple already has its own established design formula which attracts many consumers every time they release a new model. Even competitors are tuning in for what's next to iPhone and inculcate these changes into their own brands.
However, the company has been struggling to maintain their design reputation as of late.
According to BGR, Apple's flagship phone's design began showing off signs of imperfections which they are not able to address for three years now. One good example to this is the protruding rear camera. Alas, this problematic design is not going anywhere. Another example of problematic design result is the antenna lines located at the back of the iPhone.
The tech giant is expected to address these glitches and offer users powerful cameras and sturdy aluminum unibody designs. But based on the leaks we have seen, the iPhone 8 design is set to bring in the worst iPhone design yet, BGR added.
Signal strength struggles
Matthew Miller of ZDNet shared that his once-iOS-fan wife opted to switch to Samsung S8 Galaxy.
The reason? It's the signal strength.
Truly, one would sacrifice the phone's interface for a better signal since an OS would be less useful if it cannot be used to connect to the internet or fetch data for its users to communicate. Miller's wife previously used the current iPhone 7 but dumped it for the Samsung S8.
Moreover, the author supported his claim by sharing that he has personally experienced the S8's reception consistency which is being measured in dBm and not the usual number of bars. He noted that in places where the iPhone 7 was called, their Galaxy S8 has been working without any calls dropping out.
Thus, having iPhone 8 seems to be a gamble. With S8 Galaxy's proven signal stability, it has been the best option at the moment.
Repeated delays
Time and again, the iPhone 8 release date has been pushed back for reasons we never came to know. Apple has been silent in these matters, however, keeping its massive following turns out to be disappointing.
Now that iPhone 7 and iPhone 7 Plus are reportedly entering a mass production, the 8th generation iPhone's release is in jeopardy once more. Pushing back the September launching forcing many Apple fans to remove another box from their wish list, Express reported.
Click to read more
and watch the video
or