Nebraska Football: Kevin Sumlin could be fall back if Scott Frost falls through
While most Nebraska football fans have tunnel vision when it comes to Scott Frost, Kevin Sumlin is a good coach in a bad situation.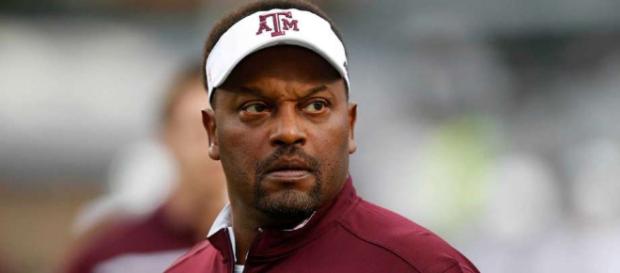 While the Nebraska Football faithful tends to have tunnel vision when it comes to the Huskers next head coach, a new candidate has likely entered the fray. Scott Frost has been the pick of most Cornhusker fans since it became obvious that Mike Riley won't be retained and UCF was winning at a breakneck pace. The problem with the fanbase having that tunnel vision is that no one has gotten Frost to say, on the record that he plans to be the next head coach at Nebraska.
If Frost does somehow fall through the Husker cracks, most people have thought someone like Chip Kelly or Iowa State's Matt Campbell would be the backup plan. It appears Kevin Sumlin is a name more Cornhusker fans should be looking, considering he might be available once the Texas A&M regular season is over.
A new report by the Houston Chronicle claims that the Aggies are set to fire Sumlin whether or not he wins his final game of the season, against the LSU Tigers.
Nebraska football should look long and hard at Kevin Sumlin
The Chronicle says that the Aggies are not happy with the job Sumlin has done at Texas A&M over his six years there. Once the team plays the finale against LSU, he will be let go, even if his team manages to blow out the Tigers. Of course, blowing out LSU doesn't appear to be on the table as the Aggies are double-digit underdogs in this Saturday's upcoming game. At the same time, Sumlin recently said that he expects to be the coach next season. Nebraska fans know all about embattled coaches saying that sort of thing.
Mike Riley has said something similar.
When reports of a head coach all but being out of a job surface, those reports tend to be accurate. That could be good news for Nebraska. It's not as though Sumlin has done a terrible job for the Aggies. He's never posted a losing record at Texas A&M. In fact, he's likely going to be leaving the school having never missed a bowl bid. This season, should they lose to LSU would be the worst regular season record the team has posted under its head coach at 7-5.
The problem for Sumlin might just be the expectations he generated in his first season in College Station when the team went 11-2. They've never come close to repeating that record. 9-4 is the second best record he's posted.
Texas A&M is a hard place to win
The issue that Husker fans need to be aware of is that while his record isn't eye-popping, it's not easy for the Aggies to compete in the SEC. Texas A&M departed the Big 12 around the same time that the Nebraska football team did. Both schools have struggled since their departure. The Huskers could do quite a bit worse than Sumlin when it comes to hiring a replacement for Mike Riley.
Click to read more
and watch the video
or