NBA preseason: Oklahoma wins at Denver, Lakers lose against Jazz
There were several interesting preseason games played in the NBA on Tuesday night, including the matchup between the Thunder and the Nuggets.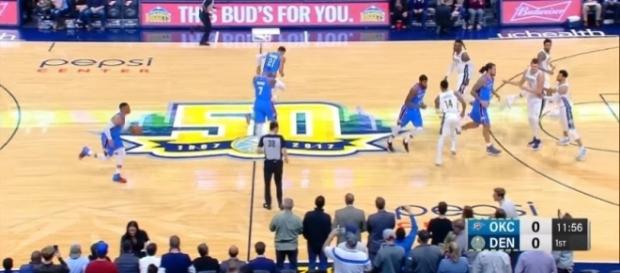 We are just five days away from the start of the 2017/2018 #NBA season, and teams around the league are still playing their preseason games [VIDEO]as they await the start of the season. On Wednesday night, several teams, including the #Oklahoma City Thunder and the Denver Nuggets, also played their preseason matchups. [VIDEO] The Nuggets hosted the Thunder in front of a semi-sellout crowd of 10,000 fans at Pepsi Center in Denver. Denver was looking to bounce back in this game after losing to the San Antonio Spurs three days ago, while the Thunder wanted to win their third straight game.
Westbrook leads Oklahoma to a convincing win
Oklahoma was in control of this game basically from the opening tip.
They jumped out to an early lead and never looked back. The Thunder outscored the Nuggets 25-17 in the first quarter, and at halftime, they held a 49-39 lead. Denver managed to cut that lead down to five points at the end of the third quarter as the Thunder led 69-64. It was a back and forth affair in the fourth quarter but Oklahoma ended up with a 10-point win 96-86.
OKC held the Nuggets to just 34.1 percent shooting from the field in this one, and they outrebounded them 56-46.
Russell Westbrook led the way for Oklahoma on Tuesday night with 20 points and seven assists, while Paul George finished with 19 points and 11 rebounds. Carmelo Anthony added 16 points and nine rebounds for the Thunder.
For the Nuggets, it was Will Barton who led them in scoring with 26 points and five rebounds off the bench.
Nikola Jokic contributed with 12 points, 11 rebounds and three assists for Denver.
Jazz edge the Lakers at Staples Center
Even though it was just a preseason game on Tuesday night for the Lakers, there were more than 15,000 fans at the Staples Center as the Lakers hosted the Utah Jazz. Utah took an early lead as they outscored Los Angeles 28-27 in the first period. At halftime, the Jazz were still in front as they held a 52-49 lead. Teams went back and forth in the third quarter, but Utah still had the lead at 79-77 heading into the fourth quarter. Even though the Lakers had a 99-98 lead late in the fourth quarter, Utah closed out the game with a 7-0 run and celebrated a 105-99 victory.
The Jazz had three players scoring at least 20 points in their win against the Lakers. Rudy Gobert led the way with 29 points and 13 rebounds, while Ricky Rubio finished with 22 points and six assists. Donovan Mitchell added 26 points and five rebounds for Utah off the bench.
Kyle Kuzma was the leading scorer for the Lakers with 18 points and he also added four rebounds. Jordan Clarkson also added 18 points, while Brandon Ingram finished the game with 13 points and five rebounds for the Lakers. #Utah Jazz