NBA preseason: Boston defeats Charlotte, Memphis wins against Orlando
The Celtics hosted the Hornets in their preseason debut, while the Grizzlies played against the Magic.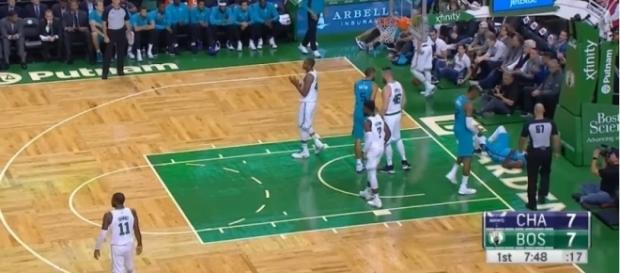 As we await the start of the regular season in the NBA, there have already been some interesting matchups in the preseason. Many teams will enter the 2017-18 season with retooled rosters, and the preseason is a perfect opportunity for them to build chemistry and to see what works for them and what does not. One of the teams that have made major roster changes this offseason is the Boston Celtics. The Celtics added Kyrie Irving to their roster this past summer [VIDEO], and on Monday night Irving hit the floor in their preseason debut against the Charlotte Hornets.
Convincing victory for the home team
The Celtics hosted the Hornets in front of a large crowd at TD Garden in Boston on Monday night and wanted to put on a show for their fans.
The home team controlled the game from the opening tip and led 47-43 at halftime. Heading into the fourth quarter, the Celtics held a 68-62 lead and with a 26-point fourth quarter, routinely celebrated a 94-82 victory.
Three players finished in double-digit scoring for Boston on Monday night, with Daniel Theis leading the way with 12 points off the bench. Aron Baynes added 10 points and five rebounds, while Abdel Nader contributed with 10 points and four rebounds. In his debut in front of the home crowd in Boston, Kyrie Irving scored nine points on 4-of-11 shooting and also added four rebounds and three assists.
Jeremy Lamb led the Hornets in scoring with 17 points and eight rebounds off the bench, while Kemba Walker added 12 points and three assists. Nicolas Batum finished with 10 points and two assists for Charlotte.
The Hornets shot just 37.5 percent from the field on the night.
A wire-to-wire win for the Grizzlies
The Memphis Grizzlies hosted the Orlando Magic on Monday night at FedExForum Arena in a preseason debut for both of these teams. The Grizzlies opened up the game with a 28-point first quarter and led 53-50 at halftime. After three periods of playing time, Memphis was in front 72-65 and ended up winning the game comfortably 92-84. The Grizzlies outrebounded the Magic 54-49 in this one and held them to just 15.6 percent shooting from the three-point line.
Mario Chalmers led all scorers in this one as he had 19 points for the Grizzlies off the bench. Jarell MArtin added 16 points and four rebounds for Memphis, while Brandan Wright helped with six points and eight rebounds. For the Magic, it was Jonathan Isaac who led them in scoring with 15 points on 6-of-10 shooting and also added three rebounds. Mario Hezonja added 12 points and two assists off the bench for Orlando. #Charlotte Hornets #NBA Preseason #Boston Celtics