Who makes the The All-NBA Snub Team?
Many players who deserved to be on the All-NBA Team missed the cut, so here's a team just for them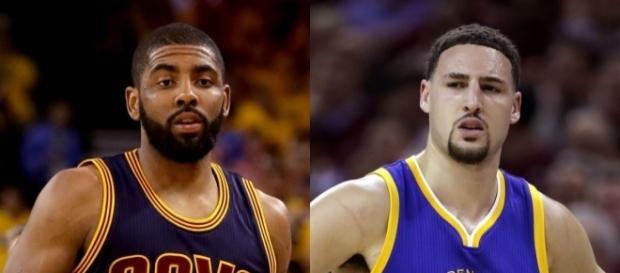 The All-NBA teams always ignite debates when they are released to the public. This year was the same story, as people were either satisfied or dissatisfied about the players who made the list. Even some #NBA players weren't happy about the roster. But be angry no longer, as there is a roster of the people who barely missed the cut for All-NBA. This is called the All-NBA #Snub Team: a roster of NBA players that got snubbed by All-NBA voters. This follows the same format as the official All-NBA roster, as we will choose two guards, two forwards, and one center. This roster gives the players who missed the team the recognition they deserve.
Guards
The Guards for the All-NBA Snub Team are:
Kyrie Irving, Cleveland
Klay Thompson, Golden State
Kyrie Irving was a huge snub for the All-NBA roster.
Kyrie averaged 25.2 points per game, which ranked him fifth among all point guards in the NBA. He also ranked fourth among point guards with a shooting percentage of 47 percent. Kyrie Irving put up his best scoring season of his career as well. He also had the second-highest free throw percentage among point guards as well. Kyrie Irving was a key piece to the Cavs' offense and his scoring showed that. Kyrie should've been to an All-NBA Team, but he is getting the recognition he deserves on our list.
Klay Thompson is another guard who was wrongly left off the roster. Thompson quietly averaged 22 points per game which ranked fifth among shooting guards. Thompson also shot 41 percent from three-point range, putting him eighth among shooting guards. Thompson has played great defense on the league's best scorers and averages a steal per game.
Thompson's quiet but productive season was overlooked by the voters, but not here on the All-Snub Team.
Forwards
The two forwards for the All-NBA Snub Team are:
Paul George, Indiana
Gordon Hayward, Utah
Both of these guards have something in common. They both lost millions of dollars for simply not making an All-NBA team. This is a big blow to their teams as well, but they get the respect they deserve on our list. Paul George is always considered a top 10 player in the league, and this year was no different. He averaged 24 points a game and was fifth among qualified small forwards. George also was in the top 10 in three-point percentage in that field as well. George's defense was great as he was ranked sixth among small forwards in steals with 1.59 per game. George is a two-way star who wasn't given the respect he deserved from the media. George outperformed other forwards on the list but was still left off.
Gordon Hayward had himself a great year too, carrying Utah to the second round of the playoffs.
He was in the top ten in scoring among small forwards with 22 a game. He also was in the top ten in three-point percentage. Hayward was a victim of the quiet but productive role Klay Thompson was in as well, playing great basketball, but not catching the eyes of the media.
Center
The lone center who makes our All-NBA Snub team is:
DeMarcus Cousins, New Orleans
Boogie Cousins is arguably the league's best big man. He posted great numbers last season. He put up 27 points per game, which is undoubtedly the best among centers. He also brought down 11 boards and had 1 block per game. There is no reason why Cousins was left off this list. He is a rare talent, a big man who can dribble and shoot well from three-point range. The only thing that prevented Cousins from being on the All-NBA roster is probably his technical foul trouble early in the season. This is probably the biggest snub from the All-NBA team.
The All-NBA Snub team can't earn players extra money, but it can give the players the recognition the deserve. Since the people of the media failed to give them their glory, we will. These players all had great seasons, but having a quiet season to technical foul trouble early in the year cost them votes and ultimately left them off the roster. Don't worry -- they earned our respect and made the All-NBA Snub list. #Points Per Game