'The Young and the Restless' Spoilers: 2018 begins with a bang in Genoa City
Drama continues for the Newman's as Nick snitches, Sharon confronts Abby, Christian disappears, and Victor and Nikki form a strong alliance.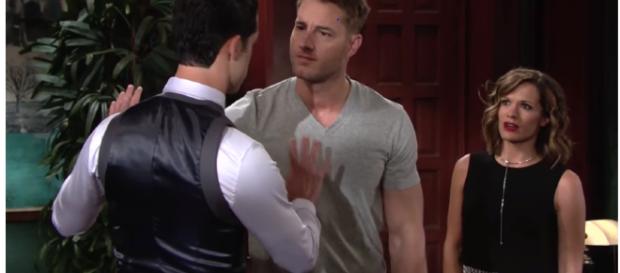 "The Young and the Restless" was preempted Friday (Dec. 29) and will not air on Monday (Jan. 1), but spoiler alerts indicate that 2018 will bring fireworks in Genoa City. According to Soaps, She Knows, beginning on Tuesday, January 2, things will really heat up for the Newman family. The new year begins with a bang as Nick decides to tell Sharon that Scott is cheating on her. At some point, Sharon and Abby will collide and Mr. Granger's live-in lover will smack his side chick. Victor And Nikki are going to form a strong bond and emerge as a power couple, but danger looms as Christian goes missing while Chelsea is watching him.
The new year begins with a bang for the Newman family
The Newman family gathered reluctantly on New Year's Eve to watch Victor renew his wedding vows to Nikki, yet again. The ceremony was beautiful and it was obvious that in spite of all they have endured this couple is destined to be together. Soaps, She Knows, says that this move will solidify Nikki and Victor and gain them power couple status once more in Genoa City. Together they will be a force to be reckoned with and something is probably coming down the road that will involve them.
After his parents, nuptials Nick Newman went to get coats and spotted Scott in a lip lock with Abby. Spoilers say he will snitch to Sharon that her man is cheating and later there will be a confrontation between his ex-wife and his younger sister. Sharon will smack Abby and later Victor's youngest daughter will apologize. This does not, however, indicate that "Scabby" will keep their hands off of each other.
"The Young and the Restless" writers are probably not going to simply allow "Scabby" to fade into the woodwork without exploring what they could mean to each other.
It's possible Sharon may kick her lover to the curb and he could run straight to the woman who he cannot seem to resist. This could all be a set up for Abby to end up back in Scott's arms yet again.
Christian goes missing
Spoiler alerts indicate that the biggest reveal for the New Year is that Christian is going to go missing while Chelsea is in charge of the little boy. The entire Newman family and all of Genoa city will be up in arms regarding this child. Nick's son could simply have wandered away but fans who desire Adam to return to town may believe that he has kidnapped the child who actually is his biological child.
Whatever the reason for his disappearance, finding Christian will be the main focus in Genoa City. His grandfather will pull out all the stops for his safe return and this could open a door for the truth regarding his parentage to be revealed. Stay tuned weekday afternoons at 12:30 PM for more episodes of "The Young and the Restless."