The big news is here and Evan Stewart and Carlin Bates are officially courting. The couple from "Bringing Up Bates" has been seen on the show, but they weren't actually courting at that time. Now, the Bates Family Blog has shared that Evan actually asked her to court. Of course, Carlin said yes to him and the couple is doing great.
What is the big update on this couple?
Evan wanted to do something big for Carlin Bates when he asked her to court. First, he got permission from her dad Gil Bates to ask her, which of course, was really important. You can see from the pictures that Evan's parents were there when he asked and that he gave Carlin some kind of bracelet. He is seen putting it on her arm. This isn't an engagement just yet, but that does show that they are serious about each other. It wouldn't be shocking at all if he proposed to her very soon. The fans will be waiting to hear that news from the happy couple.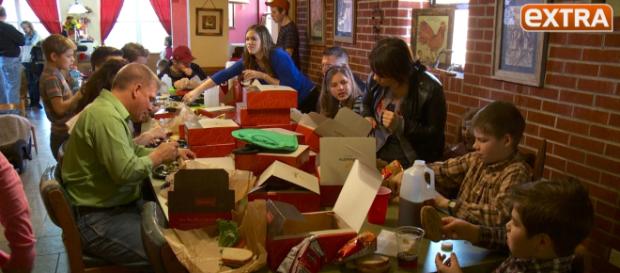 When will we get to see it all?
The new season of "Bringing Up Bates" will be starting in just a couple of weeks on UP. The first episode is called "The 4 C's – Carat, Clarity, Carlin & Courtship," and it will air on January 4. The fans can't wait to see it and it is almost time. They should so Evan asking Carlin to court, but there is a lot more to be excited about this season on "Bringing Up Bates." There are babies coming and a big wedding plus new courtships.
There are a few spoilers about what will happen on this season of "Bringing Up Bates." Bobby makes the big move to Tennessee, but of course, he stops at a jewelry store on his way. Josie will turn 18-years-old this season. Another big thing that happens is that the Bates family will open up their new church and start having services there. They have been working hard on getting it all ready.
The fans can't wait to see the new season of "Bringing Up Bats" with all of this great news.
The family always does a great job of updating fans on their social networks about what is going on, but it is just better to be able to see it on the show.
Are you excited to hear that Carlin Bates and Evan Stewart are courting now? Sound off in the comments below on your thoughts and don't miss the return of "Bringing Up Bates" to UP. The new season will be back on January 4, 2018, and with this new season will come a ton of updates from the couples.
Gil and Kelly Jo Bates actually just went on a big vacation with Michelle and Jim Bob Duggar to the Bahamas and it looked like a great trip for the couples.