Straight No Chaser serenades 'Today' morning in Christmas spirit
Pioneering a cappella group still puts unique spin on Christmas classics and fills live shows.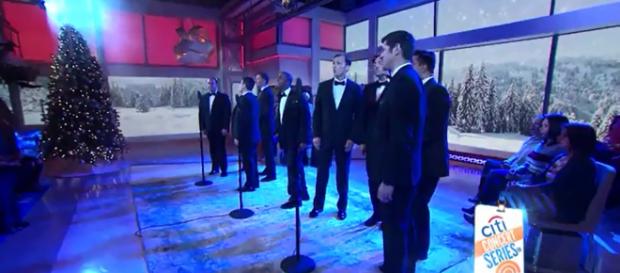 Straight No Chaser has been doing it a cappella style for 21 years now. Long before there was Pentatonix or the glut of a cappella singing competitions on the live stage and broadcast TV, Straight No Chaser started out in 1996 at Indiana University. It is no understatement to say that the nine-member ensemble paved the way for the massive success of Pentatonix and other followers, and they did it from the grounds of their college campus up.
Nothing shows off the stunning harmonies and smooth individual vocals within Straight No Chaser like a Christmas performance, and on December 22, the guys graced two hours of "Today" with selections fit to sooth any holiday shopper's stress.
The group is wrapping up their holiday run of shows under the warmer weather, and from the deeply spiritual to speeding fun with Santa, they had something for everyone on the last Friday before Christmas.
Perfectly probing
To close Megyn Kelly's hour of "Today," Straight No Chaser performed the deeply probing nativity song "Mary, Did You Know?" The talents of Jerome Collins stand out in this Christmas anthem of faith, depicting God's promise of salvation embodied in the form of a helpless, human newborn son.
What seems effortless in weaving the vocal textures in and out of choruses is actually quite a feat, and one of Straight No Chaser's singular abilities has always been that with voices alone, the group creates full-sounding arrangements, with no want of instruments. The deft touch and perfect tone of this musical interlude provide the perfect pause for reflective meditation amidst the Christmas rush.
Comedian and singer, Mark Lowry, famous for his long-running part with the Gaither Vocal Band and in countless Gaither Homecoming performances, wrote the lyrics for "Mary, Did You Know?" in 1991, with music done by Buddy Greene, another longtime Gaither accompanist.
The song was first recorded by Michael English and reached number six on Christian contemporary charts. Mark Lowry also went on to record the song himself, and other versions, by Kenny Rogers, Wynonna Judd, and Pentatonix have added to the song's place as an indelible classic. Straight No Chaser included the song in last year's Christmas collection, "I'll Have Another... Christmas Album." There is a kind of reverence in the group's rendition that becomes lost in the up-tempo pizzazz of the Pentatonix treatment.
Sleighing fun
Hoda Kotb gave a warm greeting to the guys as they were up to perform for the final hour of "Today." This time, Straight No Chaser went a little retro rock 'n roll with The Beach Boys' "Little St. Nick." Seeing as The Beach Boys, under the genius of songwriter Brian Wilson, practically invented flawless harmony on record for a vocal group, Straight No Chaser could hardly improve on the best, but neither did they do any damage. Here's betting that audience members will be downloading the song by both groups for holiday dancing.
The song originally released in December 1963.
Straight No Chaser had a life-changing turn of fate when their "12 Days of Christmas" video, recorded in their university days, caught fire and went viral in 2007. It became 2007's most-watched video and has now been seen 20 million times. Internet success led to signing with Atlantic Records, for a five Christmas album deal, and there have been others along the way. The group is on tour now in support of "Six Pack: Volume 3" on their current Speakeasy Tour, which ends January 2 in Honolulu.
This group knows what it is to have staying power in song.