'Days of our Lives' spoilers: Chabby reunion halted, Tripp's ready to skip town
'DOOL' spoilers reveal that Chad and Abigail are in for more drama and Tripp's ready to leave Salem.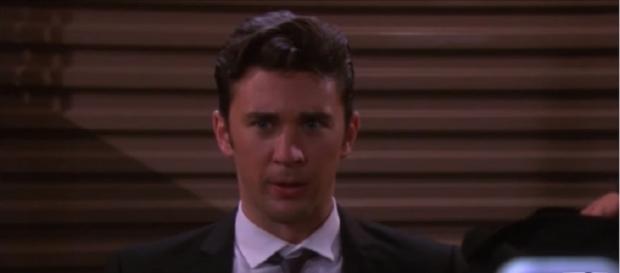 "Days of our Lives" spoilers for the end of the week reveal that Chad and Abigail's happy reunion may be short-lived. The couple have only recently reunited romantically after Abigail was hit by a car while pushing Chad out of the way in order to save him. Abby nearly lost her life and had to have life-saving surgery just to survive the accident. However, with a little love and care from Chad, Abigail is now awake and knows that Chad loves her and wants her back.
Chabby fans may have to wait for an official reunion
"DOOL" fans watched Gabi call it quits with Chad, and now there is nothing standing in "Chabby's" way, or is there? Spoilers reveal that Chad and Abby's happiness may not last as their reunion will take a surprising turn.
The couple may be forced apart yet again, and it could be due to Chad's alleged involvement in Deimos Kiriakis' murder.
Steve and Kayla are sick with worry
Meanwhile, "#Days Of Our Lives" fans will see the Johnson family drama continue to intensify as Kayla and Steve are feeling some major tension in their relationship. On Wednesday, Joey revealed that he was considering going to the Salem police department and turning himself in for the murder of Tripp's mother, Ava Vitali.
Tripp wants to leave Salem
As "DOOL" fans know, Tripp completely lost his mind and attacked Kayla, holding her at knife point until Steve and Joey arrived. Joey confessed to Tripp that it was he, not Kayla, who killed Ava, and now the family is in pieces. When Steve suggested that Joey make his own decision about confessing, Kayla told her husband that if Joey goes to jail, then Tripp should as well! It seems that Tripp will be feeling pretty bad about what's transpired between him and his newfound family, and he'll want to secretly leave Salem to get away from his problems.
However, he may run into someone that could possibly change his mind about skipping town.
Angelica meets Bonnie and Lani's in for a rough time
Meanwhile, "Days of our Lives" viewers will see Angelica Deveraux and Bonnie Lockhart come face to face for the first time on Thursday. The two will work out the kinks in their new scheme to have Bonnie take over Adrienne's life now that her doppelganger is locked away in prison as Bonnie. It seems that Bonnie will take a page out of Hattie's book, and assume Adrienne's identity. Of course, the first thing she has to do is break off Adrienne's relationship with Lucas Horton, because Bonnie's got some big plans to get revenge on Maggie, and nothing can stand in her way. Other "DOOL" spoilers reveal that Lani will be put in a very tough spot at work, and it could have something to do with a possible crime that her father Abe allegedly committed! #Soap Opera