Tori Spelling and Dean McDermott are open to have baby no. 6 'in the future'
Tori Spelling forgot how much she loved being pregnant. She is "completely open" to the idea of welcoming one more baby to the McDermott family.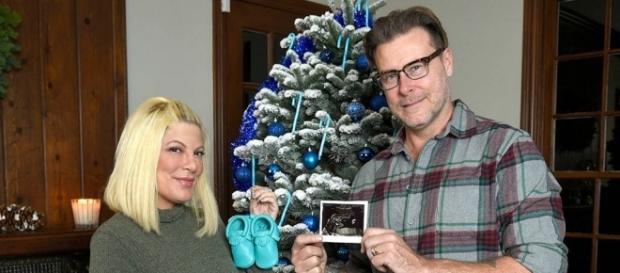 For Tori Spelling, her days of being pregnant may not be over just yet. According to Yahoo, the 43-year-old actress revealed that she and her husband might want to try for baby number six "someday."
Tori misses being pregnant
On March 2, Tori Spelling and her husband, Dean Mcdermott welcomed their fifth child together. The baby arrived via cesarean section. Even though she had a surgical birth, Spelling said the pregnancy was very different than her fourth pregnancy, and she is "open to the idea" of having one more baby down the road.
During Tori's fourth pregnancy, she faced life-threatening complications. She was diagnosed with placenta previa, a condition in which the placenta blocks the opening to the cervix.
She spent much of Finn's pregnancy on bedrest, stating all she did was worry and stress about her son's health. It worked out in the end, and Finn was born healthy via c-section four years ago.
Tori says that her pregnancy with Beau, born on March 2, was very easy. She reveals that she didn't have any compliations, which was a nice change of pace.
It went so well that the "Beverly Hills 90210" alum is considering adding another child to the McDermott household.
Baby Beau's 1st family photo shoot! @people https://t.co/bJzlfGCKFa pic.twitter.com/u6Np4NVqdX

— Tori Spelling (@Tori_Spelling) April 12, 2017
Dean and Tori have six children between them -- Liam,10, Stella 8, Hattie 5, Finn, 4, and Beau. Dean also has an 18-year-old son, Jack from a previous marriage.
Odd number of kids
Tori's main reason for wanting another child is she would like each child to have a pair to play with.
Right now she said one child is the odd man out, so she would like to add one more child to even it out.
If Beau's pregnancy would have been like Finn's, Spelling said that she would never consider another child.
Delivery room jitters
Despite the fact that she didn't face any complications during her pregnancy when it came time for the c-section delivery, the veteran mom was nervous. Tori's younger brother, Randy flew in from Oregon to be there for the birth. She says that she wouldn't have gotten through the surgery without his encouragement.
Spelling said that her brother told her that she would be fine because she's "good at this." Of course, the fans know that she delivered a healthy baby boy. Both mom and baby are doing well.
.@Tori_Spelling & @imdeanmcdermott share how baby number 5 saved their relationship. https://t.co/mESP8PJh6k pic.twitter.com/hlXdrCw3WM

— EntertainmentTonight (@etnow) April 12, 2017
As for if she would expand the McDerrmott family for another baby one day, the actress won't rule that out. She said, "Whatever is meant to be is meant to be."
Do you think Tori Spelling and Dean McDermott will have another baby?