Arnold Schwarzenegger trolls Donald Trump over historically low approval ratings
As Donald Trump deals with his approval ratings dropping by the week, Arnold Schwarzenegger decided to give his thoughts on Twitter.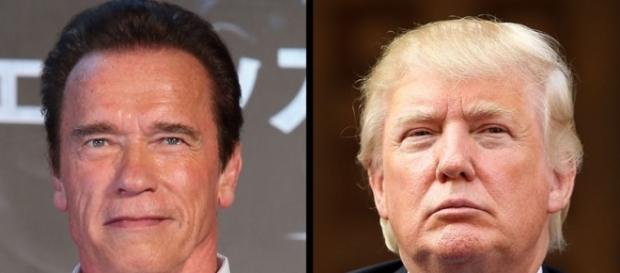 If there's one thing that Donald Trump is obsessed with, it's numbers, polls, and ratings. Unfortunately for the President of the United States, his approval numbers are not where he would like them to be.
Arnold on Donald
Ever since the first day that Donald Trump announced his campaign for president, he's touted numbers. Whether it's his wealth, his ratings as the host of "The Apprentice," or the poll numbers that showed him in good standing with millions of American people, Trump has always been quick to brag about his success.
While Trump was able to shock the world and become the Republican nominee and then the president with a win over Hillary Clinton, he's struggled in the job as commander in chief ever since being sworn into office last January.
Though the president has many important issues on his plate, he's taken time to continue his feud with a variety of celebrities, including new host of "The Apprentice," Arnold Schwarzenegger. Just last month, Schwarzenegger announced that he was leaving the show after just one season, blaming low ratings on the negative reaction from potential viewers due to the fact that Trump was still an executive producer. As seen on his Twitter account on March 21, Schwarzenegger has a message for the president about his low numbers.
Hey, @realDonaldTrump, I have some advice. See you at Hart Middle School? Here's more info about #afterschool: https://t.co/NOgdhBHyyp pic.twitter.com/NQI2OdVqtF

— Arnold (@Schwarzenegger) March 21, 2017
In an early morning video Tweet on Tuesday, Arnold Schwarzenegger ripped into Donald Trump for his low Approval Ratings.
"Oh Donald, the ratings are in, and you got swamped. Now you're in the 30s?" Schwarzenegger said. "What do you expect, I mean to take away after school programs for children and Meals on Wheels for the poor people," he pointed out, alluding to recent cuts proposed in Trump's budget. "That's not what you call making American great again, come on. I mean, who is advising you?" Schwarzenegger wondered.
Arnold Schwarzenegger mocks Trump over low "ratings": https://t.co/MJDoKaoU6p pic.twitter.com/RZEyEKZ9dU

— The Hill (@thehill) March 21, 2017
Friendship gone bad
Arnold Schwarzenegger then suggested that Donald Trump join him and attend a local middle school in Washington, D.C. so the two of them can see the "fantastic" work that the teachers are doing with the students. The star of the "Terminator" franchise has made it no secret that he's not a fan of the billionaire real estate mogul, despite being one of the few Republicans in Hollywood. The two were close at one point, but after Trump mocked Schwarzenegger for low ratings on "The Celebrity Apprentice," while criticizing his job as former governor of California, the relationship between the two quickly turned sour.
Click to read more
and watch the video
or