Donald Trump hires anti-BLM sheriff David Clarke to DHS job, Twitter explodes
Donald Trump has decided that the controversial David Clarke will join his administration in a decision that instantly went viral on social media.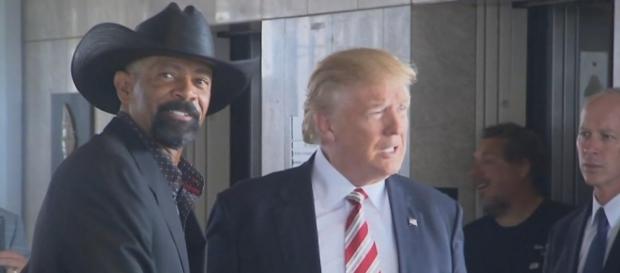 In yet another move that has raised eyebrows, #Donald Trump has brought controversial sheriff David Clarke into his administration. Within minutes of the news becoming public, social media erupted in backlash.
Clarke in the White House
During the entire 2016 presidential election, Donald Trump made a lot of enemies due to his blunt rhetoric that many found offensive. While Democrats and liberals pushed back against the former host of "The Apprentice" from the start, many others stood by his side in defense of his policy proposals and agenda for the country. One of the names that has been a Trump supporter from day one is David Clarke, the outspoken Milwaukee County sheriff from Wisconsin.
Clarke has made a name from himself as one of the more high-profiled African-American conservatives who is often found on lashing out Fox News. Clarke has spoken out on a routine basis, blasting the Obama administration and comparing the #Black Lives Matter movement to the Islamic State (ISIS). As reported by The Hill on May 17, Clarke has been hired to join the Trump administration, but the news didn't go over well on social media.
According to the report in The Hill, David Clarke has accepted the position of assistant secretary in the Department of Homeland Security (DHS), ending long speculation about whether or not he would take on a role with the administration. Clarke found his name in the headlines last summer after delivering a speech at the Republican National Convention in favor of the billionaire real estate mogul.
Twitter reacts
Responding the news of David Clarke headed to the DHS, social media users fired back with his name quickly trending on Twitter. "How can someone possibly be dumb enough to hire both Michael Flynn and David Clarke?" one tweet wondered about Donald Trump.
David Clarke - a black man, yes - thinks black people are "lazy" and "morally bankrupt." https://t.co/LJBhOBcChG pic.twitter.com/WT95DjTjZo

— Daniel Dale (@ddale8) May 17, 2017
David Clarke is legit one of the worst people in American politics, responsible for multiple deaths & who traffics in fascist rhetoric. https://t.co/oag2tMtEFt

— Jamelle Bouie (@jbouie) May 17, 2017
That's all for now. I have a hundred more.

Sheriff David Clarke should NEVER be in law enforcement & definitely not Homeland Security.

— Shaun King (@ShaunKing) May 17, 2017
"A reminder that Sheriff Clarke thought ISIS and Black Lives Matter were forming an alliance to destroy America," Daniel Dale wrote on Twitter. "I had to watch a lot of David Clarke during my FOX-binges last fall.
What a terrifying guy. He reeks of sadism, can't even fake normality," TV critic Emily Nussbaum tweeted.
4 people, including a baby, have died in a jail run by Sheriff Clarke https://t.co/1tX2pumhPy https://t.co/HaXJimYp8H

— Bradd Jaffy (@BraddJaffy) May 17, 2017
How can someone possibly be dumb enough to hire both Michael Flynn and David Clarke?

— A.J. Winkelspecht (@ajwink) May 17, 2017
Here's a piece by @ryanjreilly with primary docs outlining the abuses committed in @SheriffClarke's jail. Must read https://t.co/Uu0FBLeS23

— Noah Rothman (@NoahCRothman) May 17, 2017
"45 just added David Clarke to his admin...that's like loading an elephant on the sinking titanic...can't make this stuff up," another tweet read. "David Clarke is legit one of the worst people in American politics, responsible for multiple deaths & who traffics in fascist rhetoric," political correspondent Jamell Bouie wrote. The backlash continued on Twitter, with Clarke and Donald Trump both trending for all the wrong reasons. #Sheriff David Clarke