'NBA 2K18': Special Editions, pre-order bonus, release date and more
Here are the official details for the pre-order and special editions of 'NBA 2K18.'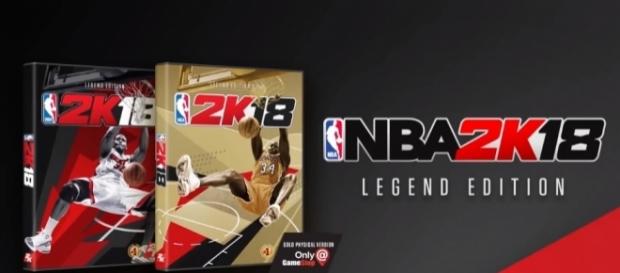 This year's much-awaited basketball simulation game from 2K Sports and Visual Concepts is releasing on September 19, 2017. The game will be available for Xbox One, Xbox 360, PlayStation 3 and 4, Nintendo Switch, and PC users. Dubbed as "#NBA 2K18," the title is the 19th installment of the popular franchise that was first introduced in 1999. With its arrival only a couple of months away, here are the #Special Editions and the pre-order details that you should know to enjoy the game according to your preference.
Pre-order bonus
For those who would like to pre-order "NBA 2K18," they will get the Early Tip-Off Edition of the game.
This contains four days of early access to the basketball simulation title starting on September 15, 2017. In addition to the 5,000 virtual currencies, players will also get 10 weekly MyTeam Packs including the Team 2K Card and MyPlayer apparel of Kyrie Irving. This, however, will be available for all platforms except for Xbox One and Xb0x 360.
Legend Edition
Players can also get the game's Legend Edition. This contains digital items including 100,000 virtual currencies, Shaquille O'Neal's Attaq shoes, rookie jersey, a championship ring, Official logo shirt, and Nickname Jersey. It also contains physical items like poster, five Panini cards, and Shaq MyTeam stickers. For $100, players who opt for this can also get 20 MyTeam packs which can be very useful for building the perfect fantasy team in the game.
This comes weekly with a guaranteed Shaq card. It also features a random Team 2K Free Agent card to name a few. Purchasing this digitally will not include the physical items.
Other details
Aside from the Early Tip-Off Edition and the Legend Edition, players can also get the game's Legend Edition Gold. For $150, players can enjoy the digital items, which include 250,000 in-game virtual currencies. 40 MyTeam packs featuring a guaranteed Shaq card will be available. Every week, the player will receive one MyTeam Pack. All other items listed under the Legend Edition [VIDEO] will also be included in this package. There are, however, additional items like five Mitchell & Ness Shaq jersey collections, 10 Panini cards, Shaq MyTeam stickers, and lenticular.
We will keep you posted with the latest update about your favorite game, "NBA 2K18" as soon as official information becomes available. Meanwhile, here is the official gameplay demo of the game released during the E3 2017 event. Follow me for your daily dose of the latest gaming news and updates. #Pre Order Bonus