NRK, Norway's public broadcaster, reported on Sunday that more than 100 reindeer have lost their lives in the past week. 65 reindeer were killed after being hit by a train Saturday, along with another 41 who were killed between Wednesday and Friday last week. Plans are now being formulated to place a fence along the railway line, as even more reindeer have since lost their lives.
Sami community in Norway suffering the loss
The Local reported the plight of the Sami community in the north of Norway, who make their living off the reindeer. The death of the animals has been called a "senseless animal tragedy," especially by one Sami herder, Ole Henrik Kappfjell, who lost 65 of his herd. He added that it was a "psychological nightmare," while saying he was so angry over the loss of his animals, he felt dizzy.
Horror as Norway freight trains mow down over 100 reindeer.
"I'm so angry that I'm dizzy...It's a senseless animal tragedy," says reindeer owner Ole Henrik Kappfjell. https://t.co/KPHEbzu8xp pic.twitter.com/rSIswdtcdw

— The Straits Times (@STcom) November 27, 2017
Reindeer moving to winter pastures
Around 250,000 semi-domestic reindeer live in the far north of Norway and with winter encroaching, the deer are herded to winter pastures in order to give them grazing.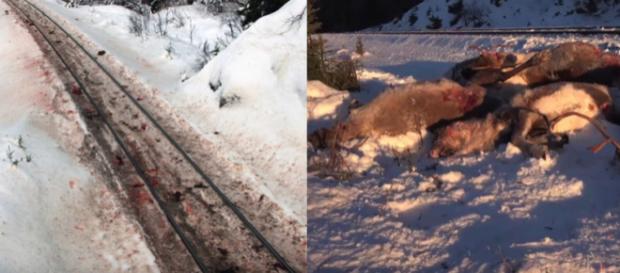 This is reportedly a dangerous journey for the animals, many of which are hit and killed by trains and cars. According to a report by the Guardian, some also die of drowning along the way.
The Guardian published images of the dead reindeer, taken by Jon Erling Utsi, a documentary filmmaker. Utsi told NRK it was a nightmare to see the dead and injured animals lying on the bloodstained snow, adding that some had to be shot to put them out of their misery.
It was Utsi that described the scene as a "bloodbath," as the reindeer were lying over several miles along the railway tracks. Between 2013 and 2016, over 2,000 of the animals died after being hit by trains on that same railway line.
Plans brought forward to build a fence on the railway line
The reindeer herders have been demanding for years that the railway operator place a fence alongside the track to prevent the deaths, but up until now, no funding has been available.
However, according to a report by The Local, officials said on Wednesday they are speeding up plans to build a fence along the railway line.
After scores of migrating reindeer were mowed down by trains, Norway speeds up construction of a fence https://t.co/kxd2hZCJZX

— AFP news agency (@AFP) November 29, 2017
This news came from Bane NOR, the state-owned railway operator after a further 17 reindeer lost their lives alongside the line between Trondheim and Bodø this week, which now brings the number of animals killed to a total of 127 within one week.
The operator said in a statement that they are planning to build 15 miles of fence in the affected area next year, which was previously planned for construction in 2019 or 2020.
Spokesman Vibeke Aarnes said the collisions by the trains with the reindeer have also affected them. The statement added that plans are afoot to extend an area where trains travel at slower speeds, adding that they are also considering installing an auto-detection system.
Talks have reportedly been ongoing with herders, many of whom have tagged their herd with tracking devices.
ERECT THE BARRIER💔😡😡😡Freight trains in Norway kills more than 100 reindeer https://t.co/oAFlJ573F2

— msmorgan1968 (@msmorgan1968) November 27, 2017
The gruesome images of the dead reindeer, surrounded by bloodstained snow, have triggered strong reactions both in Norway and elsewhere in the world among animal activists. While many Twitter users are quipping that Santa Claus won't be coming this year, others are understandably upset at the tragic and senseless loss.
Santa isn't coming kids because https://t.co/xLFuLGbSLd

— ⌘🍃ℬ‎ℯtђ🍃⌘ (@BeeHaven007) November 27, 2017