Samsung's new virtual reality headset application helps visually impaired users
Samsung launched the new application called Relumino. The app functions with the Gear VR.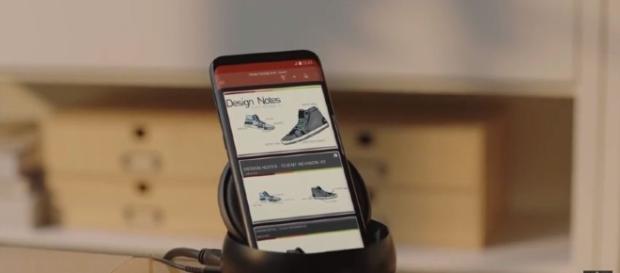 Samsung recently launched a visual aid application that uses augmented reality to help visually impaired people to read books and watch TV. The company is not just using its virtual reality headsets to boost its smartphone sales. The Samsung C-lab launched the application called Relumino to aid the visually impaired users.
How can it help the visually impaired?
The Relumino application can magnify or adjust the contrast of a certain picture to help users see it clearly. It can also remap the user's field of view to deal with blind spots or tunnel vision. Relumino can also outline objects and filter colors. The application processes the photos that are taken from the smartphone's rear camera and refines them for people with low vision.
It can even rearrange images to view objects clearly.
A government survey found that 92 percent of visually impaired people enjoyed watching television as their favorite pastime. This odd statistics got the attention of Cho Jung-hoon, a Samsung engineer, and made him and his team develop the Relumino application. Cho Jung-hoon has been working at Samsung for nine years. He formed a team called Gear View & Read to develop Relumino.
Virtual reality glasses coming in the future?
The virtual reality headsets were a bit uncomfortable to wear outdoors, which is why the company's next assignment is to make virtual reality glasses that will also support the Relumino application. According to Engadget, users of the Galaxy S7 and S8 series smartphones can download Relumino for free in the Oculus Store. The application will be a life-changer for 240 million visually impaired people around the world.
Samsung Galaxy Note 8 features
In other news, Samsung is preparing for the Galaxy Note 8 launch on August 23. The company will unveil its new device in a New York City event. Samsung's YouTube channel has released the Galaxy Note 8's teaser videos. One of the videos focuses on the smartphone's impressive features, while the other one focuses on its stylus pen.
According to TechRadar, the Samsung Galaxy Note 8 will feature an amazing screen and a fantastic camera. The device will sport a 6.3-inch screen with infinity display. It will also have a dual-lens camera with 2x optical zoom. The camera is expected to feature optical image stabilization and an f/1.7 aperture. The OIS will allow the users take better pictures in low-light conditions.
The leaked sales brochure of the Galaxy Note 8 shows that the device will be available in two colors, the Midnight Black and Maple Gold. Pre-orders of the device will start on August 24, and it will be officially available in the market on September 15.
Click to read more
and watch the video
or