Samsung's ginormous 4K resolution 88-inch Q9 TV costs $20,0000
The Samsung Q9 TV is available on BestBuy for the price of $20,000. Leaked images of Galaxy Note 8 surfaced online ahead of August 23 launch.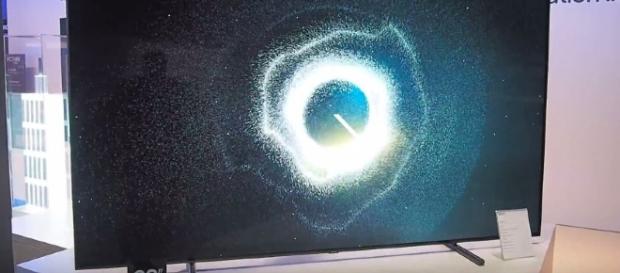 Samsung loves to make huge screens for its devices. Several weeks after the company announced its plans to manufacture a huge 49-inch monitor for gamers, Samsung has now released a massive 88-inch Q9 TV. The company's flagship television is available to purchase at BestBuy for the price of $19,999.99. BestBuy also offers $2,099.99 insurance for the Q9 TV that lasts for five years.
Amazing features
The Samsung Q9 TV features an Ultra HD 3840 x 2160 (4K) resolution, High Dynamic Range settings, Bluetooth (including headset support), and a built-in Wi-Fi.
The Samsung Q9 TV stretches for almost 78 inches (200 centimeters) wide and stands a little less than 66 inches (170 centimeters) tall. This means that the ginormous television is bigger than four 43-inch TVs combined or 200 Samsung Galaxy S8 smartphones.
The Samsung Q9 TV is part of the company's new QLED TV series that was previously announced at CES event in January. The company claims that QLEDs (LCD TVs with quantum dots) are brighter and has better color production compared to OLEDs. The Samsung Q9 also has four HDMI inputs, Samsung's Smart Hub, and a Smart Remote.
The Q9 is extremely thin, just like other TVs in Samsung's Q-series.
The Q9 TV nearly has no bezels and it features a no-gap wall mount because of its 1.88mm transparent optical cable. The cable runs to a hub from which peripheral devices may be connected. The QLED technology of Samsung's latest TV uses a layer of metal quantum dots that are placed in front of an LED backlight panel. Each of the quantum dots can emit an individual hue from a palette of a billion colors.
New leaked image of Samsung's Galaxy Note 8
In other news, leaks of the Samsung Galaxy Note 8 surfaced online ahead of its official launch on August 23, 2017.
The latest leaked image of the device came from a Twitter post of Venture Beat's Evan Blass, who has a long history of releasing accurate leaks. The image shows an almost all-screen phone with a bezel-less design just like the Samsung Galaxy S8 and S8 Plus.
The Galaxy Note 8 is a big deal for Samsung. The device is expected to lift the company's reputation back after Galaxy Note 7's issues. The Note 8 is expected to sport some of the S8 and S8 Plus' features but with some improvements. It will also sport a dual-lens camera with dual-flash array on its back.
The device will feature a fingerprint scanner on its back right next to its camera, just like the Galaxy S8.
Click to read more
You will watch a video to read the news
or