Samsung Galaxy S9 may have the same screen found on Galaxy S8
Anonymous sources have stated that the Galaxy S9 will be sporting the same panel dimensions as the Galaxy S8 smartphone duo.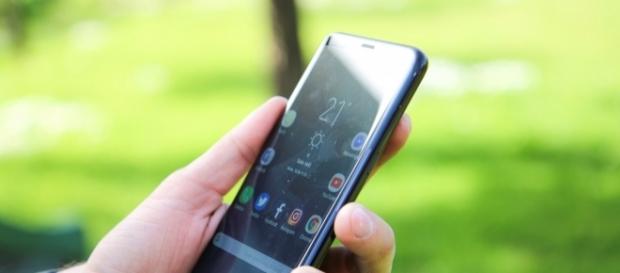 Anonymous Sources from Korea have let slip that the Samsung Galaxy S9 and Galaxy S9+ are expected to come with the same display sizes as the current flagships. The 2018 flagship is supposed to boast of 5.77-inch and 6.22-inch displays, respectively, the same as the Galaxy S8 and Galaxy S8+. The leak was sourced from an internal order that was placed with Samsung Display, the South Korean OEM's smartphone front panel manufacturing subsidiary. The order mentioned the Galaxy S9 smartphone's panel dimensions.
Galaxy S9 to sport the same screen dimensions as the Galaxy S8 duo?
According to the anonymous sources from Korea, the 2018 flagships will have curved sides along with bare minimum top and bottom bezels. Without a doubt, the next generation flagship smartphones will come with the edge-to-edge Infinity Display, which has been a massive hit since it was introduced with the Galaxy S7 edge. However, the highlight of the impending duo will neither be the screen size, nor the Infinity Display but rather the placement of the Touch Id.
If rumors are to be believed, Apple and Samsung both have failed to perfect the technology to place the fingerprint scanner underneath the front display of the iPhone 8 and Note 8, respectively. However, the sources state that Samsung will take another shot to place the Touch ID under the front display with its Galaxy S9 series. The South Korean OEM did not get the required time to work on the placement of the fingerprint scanner on the OLED screen, but with the Galaxy S9, the company has ample time to work on it.
Thus, it can be expected that the company will be keeping the news of the most of the features to be incorporated in the 2018 models under wraps as it has been only months since the launch of its current flagships.
Orders for Note 9 screen panel placed?
The rumors also state that Samsung Display has also received orders for panels of Note 9. The order apparently contains initial and unconfirmed specifics regarding the Note 9's panel. The sources say that the company has placed an order for a 6.32-inch panel for the next generation device.
This has sparked rumors that the Note 8 may sport the same dimensions as the Galaxy S9 and may be coming with the same panels as S8.
The Galaxy S9 is expected to house an Exynos 9810 CPU and is codenamed the star. The smartphone is anticipated to debut at the MWC 2018 in February and release soon after unlike the 2017 models.