Motorola Moto Z2 Force Edition: What users can expect from the slim handset
Rate this title
Motorola has announced that the Moto Z2 Force Edition will be offered by five different wireless carriers along with special offers.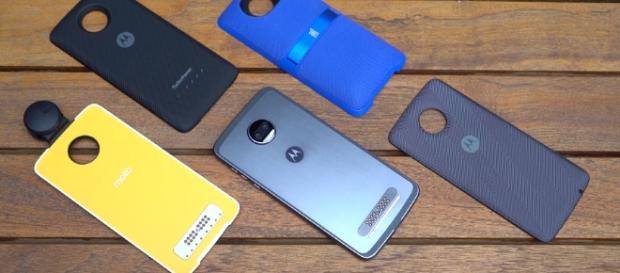 Fans of Motorola smartphones were treated to an announcement of the latest model set to join 2017's Z2 lineup. According to the manufacturer, they plan to push for a wider distribution this time around. The largest five wireless carriers in the US can be expected to offer the Moto Z2 Force Edition as soon as it launches.
Display and hardware
Motorola has equipped the Moto Z2 Force Edition with a 5.5-inch quad-HD AMOLED display. Its touchscreen is protected by a shatterproof technology that the company calls "ShatterShield." They claim that the new model is more scratch-resistant than its predecessor. The handset relies on a Qualcomm 835 processor partnered with a 4GB RAM and 64GB of internal storage memory.
Users who want more space can opt to add a MicroSD card via its memory expansion slot. It does not come with a headphone jack and uses a USB Type-C port along with a quick-charge power adapter.
Camera and construction
Just like most flagship models from its competitors, Motorola has decided to arm the Z2 Force Edition with a dual-camera setup. The twin 12-megapixel shooters sit on top its dual-tone LED flash modules all enclosed in a classy round metallic border. Selfies are captured via its 5-megapixel front-facing camera. The upcoming model is quite slim given its 0.24-inch depth. However, its trim profile has shrunk its battery capacity down to 2730mAh, which is a small sacrifice to keep its svelte appeal. Its processor's power efficiency should ideally offset the reduction. Overall, it exudes a premium appeal with the metallic construction for its frame, body, and buttons.
Moto Mods
Just like its older models, the Z2 Force Edition will feature a magnetic strip located on the bottom portion of its rear cover. Users can purchase optional accessories that are designed to enhance some of the device' features, while other mods can add new functions to the smartphone. Some of the older Moto Mods include a projector, speakers, add-on batteries, and even a Hasselblad-branded camera. Attendees of the Mobile World Congress expo this year got to view some of Motorola's prototypes like a photo printer, gamepad, LED light panel, and a VR headset. Right now, the company's newest mods are a snap-on gamepad and a 4K camera attachment.
Special offers from different carriers
The Motorola Moto Z2 Force Edition will be offered by five carriers in the US, and each one showcases a different deal.
T-Mobile customers can pre-order the unit for $750 USD. Subscribers who plan to get two phones can add a new line via their installment program will get one unit for free. The network will also throw in a projector Moto Mod for free until supplies last.
Verizon intends to sell their units for $369 USD if subscribers have an unlimited plan, purchase it before August 9, and sign up for their 24-month payment plan. They are also bundling a free projector mod just like the others.
AT&T sells it for $810 USD over a 30-month program with a bundled projector Moto Mod.
Sprint offers its subscribers the option to lease the mobile phone for $33 USD per month for 18 months and get an extra unit for free. Their selling price is $792 USD for a combo with a projector attachment.
U.S. Cellular will give its customers a free projector Moto Mod for purchased made before September 9, 2017.
Click to read more
and watch the video
or