Microsoft Surface laptop vs Apple MacBook Pro (2017): Overall comparison
Both the flagship laptop's are powered with cutting-edge specs and features.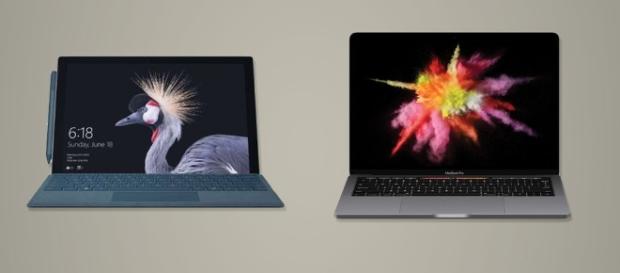 Microsoft only recently announced the launch of its Surface Laptop, aimed specifically at students. The device runs on the latest Windows 10 software and comes packed with several powerful features, however; it also comes at a rather expensive cost. Another tech giant in this market, Apple too upgraded its MacBook Pro line-up of laptops. The aforementioned device is powered by an upgraded Kaby Lake processor, more storage RAM, and the latest macOS software update. Since both the devices are out in the market, it calls for an occasion wherein both of them are put to test.
Both devices are beasts
Microsoft launched its Surface Laptop in two storage options, namely 128GB which comes at a whopping $999 and a 256GB which comes at an equally whopping $1299.
The company later introduced two additional storage variants, namely 256GB available for $1599 and 513GB available for $2199. Apple, on the other hand, made its upgraded MacBook Pro available in two options, i.e. 256GB variant that is priced at $1299 and the 512GB variant that is priced at $1599. There isn't much difference between what the two have to offer in terms of price. Both the laptops flaunt equally-impressive designs built upon premium materials. This might explain why these gadgets are priced so heavily. Both Microsoft and Apple have made their respective devices available in four colors, i.e. Rose, Silver, Gold, and Space Grey. When comparing the design of the two, Apple's MacBook Pro clearly steals the limelight. The device features an all-aluminium chassis with a single USC-C port and an upgraded virtual Touch-Bar – giving the users a highly mechanical experience.
Microsoft – on the other hand, does seem like it has worked too hard of the design of the laptop.
What Surface Book offers
Coming to the specifications bit, the Microsoft Surface Book – as mentioned previously – runs on the latest Windows 10 operating system. Whereas, the Apple Macbook Pro (2017) is powered by macOS Sierra – which was unveiled at Apple's WWDC event recently. The former features a 13.5-inch (2256 x 1504 pixels resolution) display with 201ppi and the latter packs a 12-inch (2305 x 1440 pixels resolution) with 226ppi. Surface Book further comes in two options: One that is powered by Intel Core i5 and the other that is powered by Core i7. The MacBook Pro, on the other hand, is powered by seventh-gen Intel Core processors. The storage options have already been discussed above. Connectivity wise, Microsoft Surface Book has a lot more to offer when compared with MacBook Pro (2017).
Verdict
If one is looking for something to satisfy their professional's needs then it is advisable that they opt for Apple's MacBook Pro. However, there is no better option than Microsoft's Surface Book.