Apple 'Clips': More enjoyable app with characters from Disney and Pixar
The recent update for the video creation app featured different characters from the movies.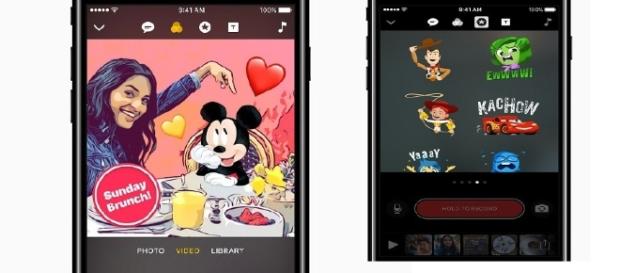 April this year, Apple released "Clips," an app designed for iPhones and iPads. Users can easily create and share some quick and fun videos with cute designs. "Clips" has been very popular with downloads, especially for people of the younger generation. For the first four days of its release, "Clips" reached up to a million downloads.
This week, Apple decided to update the app with more features.
Similar but not exactly the same
The simple and original functions of "Clips" is still there. To use the app, the user needs to launch the app, shoot a video of yourself or the surroundings or take some pictures. You can use the camera's filter to make yourself look like a character from a comic book or you can record a dialogue which will magically transform into text real time on the screen.
You can decorate the video or the photo with animated overlays and different emojis. You can also add start and end boards and customize the captions. When you are done, share your masterpiece on your social media accounts.
Among the changes in the recent update is the addition of Disney to the clip options. Apple previously added Mickey Mouse on the iPod Nano. Now, Mickey Mouse, Minnie Mouse, Donald Duck, and Daisy Duck were added to the mix.
Users can now overlay their videos with different animations featuring the different characters from Disney and Pixar. What's more, Disney also threw in the different characters from different Pixar movies such as "Inside Out," "Cars," "FInding Dory," and "Toy Story."
Explore your creativity
Among the other additional features are special effects that can also be overlaid to create videos with ten new Apple-designed overlays and 12 new posters which feature dramatic graphics, customizable animated text, and beautiful backgrounds.
It includes slow motion billowing smoke, glittering water, and 3-D pop-up art which will bring more versatility to video creation.
By exploring your creativity, you can make it look as if Mickey Mouse is having lunch with you or you are dancing at a party with Mickey. Just place the overlay icon on the video you have just shoot, and the software will automatically add the animation as you play it back.
Live titles are included in the update too. This feature, which was included ever since the launch of the app, transcribes whatever you speak. An additional button was added to the app to make editing easier and simpler.
Click to read more
and watch the video
or