AMD Radeon Vega vs. NVIDIA GTX 1080: The battle for the best
AMD and NVIDIA have now officially taken the wraps off their respective products.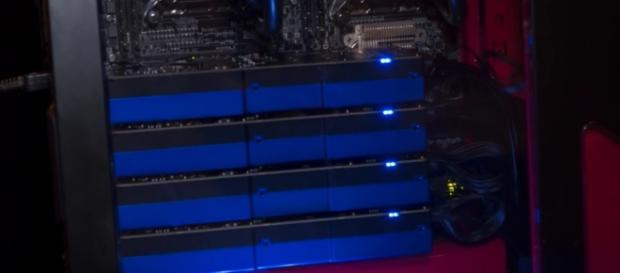 The GPU market is primarily dominated by a few names including AMD and NVIDIA. In fact, the two companies share arch-enmity when it comes to manufacturing products that are the best on the market. This year too, like most other years, AMD and NVIDIA's latest set of products are expected to come face-to-face with each other. When it comes to AMD, the firm is working on producing its Radeon Vega Frontier Edition (Gamers version) for launch towards the end of this month. Meanwhile, NVIDIA has already taken the wraps off its GeForce GTX1080 set of GPU cards.
NVIDIA vs. AMD
An expert that goes by the name of 'DudeRandom84' has put both the graphics processing unit cards to the test, and both were used to play games like "Battlefield 1," "Sniper Elite 4" as well as "Assassin's Creed: Unity." Needless to say, the results of both the processing units are incredible.
It remains to be seen which one more is worthy.
Both are beast GPU but which one leads
DudeRandom84 first put AMD's Radeon Vega Frontier Edition to test. According to the expert, the graphics processing unit card managed to run smoothly when the expert was playing "Battlefield 1." However, the same game was played upon NVIDIA's Gtx 1080 GPUs, and the results were even better. The game was streamed in 4K, and the gaming experience was enhanced to the next level. In fact, DudeRadom84 even went on to suggest that the NVIDIA's GTX 1080 was two or perhaps, three frames better than AMD's Radeon Vega Frontier Edition.The expert went on to play the latest 'Sniper Elite 4,' action-packed game wherein the same behavior was observed. For instance, it was discovered that the gaming system output was four to five frames per second slower than NVIDIA's leading GPU.
Lastly, 'Assassin's Creed: Unity' was also operated on both systems. According to DudeRandom84, AMD's Radeon Vega set of GPU cards didn't perform as expected. It was discovered that AMD's Radeon Vega Frontier Edition was much slower as well. In comparison to NVIDIA's GTX 1080 Ti, it was found that the former was almost 10 to 13 frames per second slower. Alas, it doesn't seem like things worked out for the better for AMD. The company is yet to launch its Radeon Vega set of GPU cards for sale, which they are expected to do towards the end of this month. Overall both devices are perfect for gaming. Let's see which card the gaming community ends up choosing, stay tuned for more.
Click to read more
and watch the video
or