'Clash of Clans' Shipwreck update to possibly arrive in the middle of May
Supercell released another teaser for the next 'Clash of Clans' update, possible new game mode, captains log,multi-village and more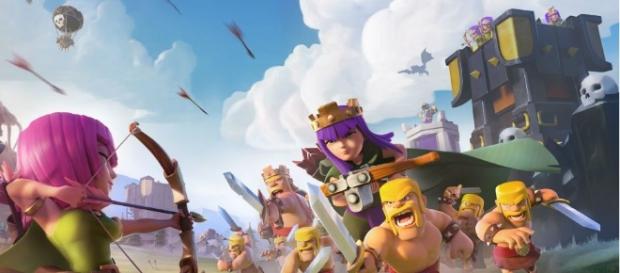 For the longest time, fans have been itching to hear details about the highly anticipated Shipwreck update of "clash of clans." Aside from the hype created by Supercell, the company's usual tight lip approach about the upcoming update has made players resort to speculations. Recently, a teaser was released hinting on what players can expect from the update.
Leaked Teaser
Aside from the official teaser that can be viewed below, there are several leaks making rounds on the Internet recently.
The speculations and theories about the Shipwreck update stemmed from the recent leak that was released several days ago. The leak shows a docked boat or ship near a player's home base.
Also, leaked teasers suggest that the upcoming update will enable players to ride the boat and explore other portion of the sea.
Moreover, another leaked "Clash of Clans" trailer in Japanese, which was translated into English. It shows a Barbarian, A Wizard, a Pig and a Hog Rider. The characters appear to be discussing their possible expedition across the sea. The discussion went on, and after contemplation from the characters, the Wizard said that the only way to get into the other side is through a dinghy, which is a boat.
Official teaser
The latest teaser from Supercell is titled "Captain's Log Day 2-New Friends." It appears that the voice over is excited to discover what is on the other side of the sea. Also, the voice was also contemplating on making new friends upon getting to his destination.
The voice over was planning to befriend some skeletons, eat snacks by the campfire. He was even thinking of asking his new friends why they don't have skins and flesh and pants.
The official teaser seems to connect to the leaked Japanese teaser about getting on the other side of the sea. While it is hilarious and entertaining, it failed to reveal extra information about the update that fans have been wanting to know about.
Speculated content and release date
Among the heavily speculated features that will be rolled out in the game with the Shipwreck, the update is the multi-village and the high-speed night mode. Several speculations suggest that the multi-village will allow players to manage a second in-game village.
The "Clash of Clans" Shipwreck update reportedly will be released sometime in May. Supercell has yet to comment about this. We will keep you posted about this massive update for the game as soon as information becomes available.
Click to read more
and watch the video
or