iPhone 8: leaked benchmark proves next iPhone is the most powerful smartphone
The latest benchmark score of an alleged iPhone 8 could potentially destroy all other competing devices in the market today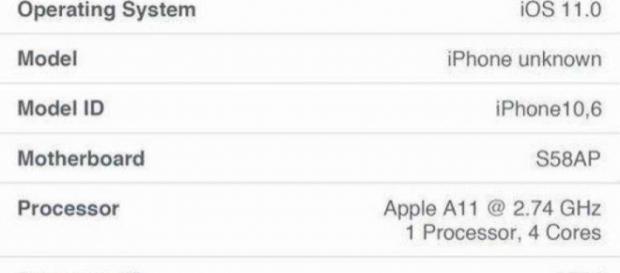 The competition in the smartphone arena is usually between the two tech giants, Samsung and Apple. This year, it will be between the recently released samsung galaxy s8 and the soon-to-be-released iPhone 8. While there is no confirmed release date yet for the highly anticipated flagship device from the Cupertino-based tech giant, for several months now, it has been the center of massive speculations and leaks. Today a newly leaked Benchmark that allegedly belongs to iPhone 8 surfaced online.
Benchmark
There are several processes that techs do to test how a particular device perform. One of them is the benchmark. Numerous Benchmarking apps are available in the market nowadays, and one of them is the Geekbench. With Geekbench, a device processor is subject to a series of tests and is given a test score from the results.
A recent information was published online about the Geekbench score for the iPhone 8. If this accurate, this will not be good news on the part of other competing brands. A disclaimer first about this photo is that images nowadays are easily created in several photo apps, the authenticity of this picture is not verified and as always, must be taken with a grain of salt.
Taking the leaked benchmark score at face value, we can infer that the image reveals four tests of a device on iOS 11. It also indicates the use of Apple's A11 processor with 2.74 GHz. The same specs coincide with the previous speculations about the specs of the next iPhone that will be released this year.
Score
The result of the benchmark is pretty impressive, more so, interesting.
It scored 4537 on a single core and a whopping 8975 on multi-core. The score of Qualcomm Snapdragon 835 in a similar benchmark conducted showed 2059 on single core and 6461 on multi-core. A result way lower compared to that of Apple. It is worth noting that Snapdragon 835 is the processor running on the Samsung Galaxy S8.
In the same test, the A10 chip running on iPhone 7 score 3505 on a single core and 5919 on a multi-core. The test result reveals that the chip was A11. If we base it in its predecessor, the A10, the increase in the performances in single and multi-core appears to be accurate. It only shows the difference of the latest chip architecture compared to its predecessor.
If the benchmark is accurate, then we are looking for a powerful smartphone with superfast performance.
Aside from the highly speculated OLED display, Touch ID, and no bezel screen, it appears that the Cupertino-based tech giant has more to offer in the form of iPhone 8.
Click to read more
and watch the video
or