iPhone 8: Upcoming smartphone to have OLED edge-to-edge display, no Touch ID
Morgan Stanley forecasts that the iPhone 8 will embrace the OLED to its hardware, dummy images appeared online shows iPhone's radical design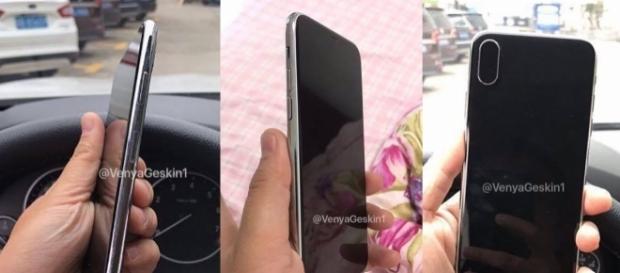 iPhone 8 has been the favorite subject of leaks nowadays. It was just a few weeks ago when we reported about a massive leak suggesting the specs and features of the upcoming smartphone through a schematic diagram. Today, another leaked image(s) surfaced online, which reveals the radical design of the flagship device.
Dummy image
Credible serial leaker and designer, known for his accurate leaks, Benjamin Geskin, released yet another image of an alleged iPhone 8 dummy. The latest report suggests that the device will not have a rear Touch Id button.
As a usual process in the industry, tech companies always have several prototypes before coming to a final product that will be released in the market. It can be recalled that there were previous reports showing Touch ID button.
This most recent image also revealed an elongated or extended power button. It appears to be unusually longer than the previously released power button of several phones. Also, the image shows that the device is made of stainless steel and glass. Noticeably, the front screen appears to have no bezel and extends from edge-to-edge.
According to Geskin, the images of the upcoming device from Apple is for the CNC, which serves as dummy models of the device's chassis. It is, however, not stated if this dummy is the final product or in one of the stages of the production process. Another interesting point in this image is that no company logo is visible in several of the photos.
No Touch ID
As mentioned earlier, the heavily speculated Touch ID is missing. This means that the company if ever this is accurate, will embed the fingerprint biometric scanner underneath the device's display.
This, however, is still a rough ground that is still debatable and can raise a question like, is the company capable of embedding it on display?
iPhone 8 Dummy (This is CNC model according to Foxconn)
Back is 2.5D Glass.#iPhone8 #iPhoneX #iPhoneEdition pic.twitter.com/Z8mH7b7z4r

— Benjamin Geskin (@VenyaGeskin1) April 23, 2017
Overall design
Observing the gallery of images of the alleged dummy photo of iPhone 8, one can infer that the rear part of the device will be a combination of metal and glass.
A good strategic design for potential wireless charging feature. Aside from that, the side of the phone aesthetically resembled that of iPhone 4. It looks like a polished stainless steel glossy and curved like that of the classic iPod.
Morgan Stanley recently forecasted that the flagship device from the Cupertino-based tech giant would have an OLED display. They reported the same forecast twice in a row already and seemed to be hyping it up for Apple. All these are real unconfirmed details. As usual, Apple has been silent about this recent leak.