Sony is giving away Golden Ticket vouchers worth $100 to random PSN users
Several fans claimed to have received special discount codes from Sony and others were lucky enough to win extra special prizes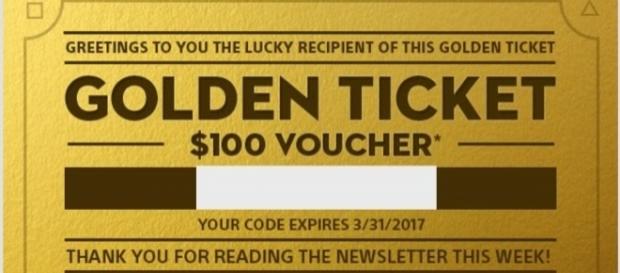 Sony seems to be very generous nowadays. The company started giving out 20 percent discount codes on March 25 to a larger portion of its PlayStation Network users' community. However, several fortunate members revealed on Reddit and NeoGaf that they have received the PSN Golden Ticket vouchers worth $100.
PlayStation Network flash sale
The 20 percent special discount codes and the PSN Golden Ticket vouchers are all part of the massive flash sale. This is one of the many ways the company celebrates the 10th-year-anniversary of the PlayStation Store. The festivity started this weekend.
The discount codes and the vouchers can be used to purchase discounted items being offered by the console store.
The flash sale will conclude on Monday. Those who were sent with $100 vouchers can use it only until March 31, 2017.
There are other deals worth noting included in the recent massive sale where you can also use the given voucher. This includes "Assassin's Creed Syndicate Gold Edition" for just $20. You can also use it if you want to avail the $10 offer for the new game "Jackbox Party Pack 3."
How to qualify
This is not the first time that the company became generous to its members. In fact, the Japanese tech giant gave out similar tickets to those who purchased PS4 Slim or Pro in the previous year. The requirements this year, however, appears to be much lower.
To get the chance of receiving the PSN Golden Ticket, you need to be a member first. In addition, you have to make sure that you opted to receive the promotional emails from the company.
Furthermore, you must sign up for the console's newsletter.
Moreover, always check the email that you register with your PlayStation Network account. This way, you can get a guarantee that you are receiving the company offers in the first place.
At present, this $100 voucher appears to be given only to a very small number of people. The rarity of this voucher is still debatable since more users were able to receive the discount codes than the $100 vouchers. This latest offer from Sony is only available in North American regions. The offer is also applicable to users with US accounts.
Click to read more
and watch the video
or