A quick guide to unleashing the potential of your new tablet and stylus.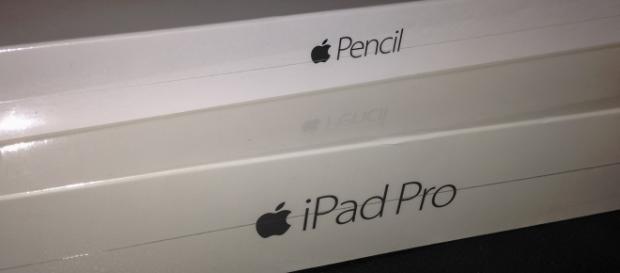 So you've just purchased an Apple iPad Pro and also bought the Apple Pencil, but now what? Here's a short guide to the first few steps you'll want to follow to make sure your devices are properly charged, your iPad is hooked up to the App Store and you've got access to some of the free starter apps to begin to explore the experience of digital drawing with the iPad Pro and Pencil.
Charge your iPad and Pencil
Once you've pulled the wrapping off your new iPad Pro, and marveled at it's size and elegance, unwrap the USB lightning cord and plug the unit into a power source. It depends on how long your iPad has been sitting on a shelf, but it could still have a 50% or better charge on the battery.
It's probably in your best interest to leave the iPad plugged in until it's charged 100% before you first use it. While new lithium-ion batteries supposedly don't have the memory problems of the NiCad variety that were often used in the past, it's never a bad idea to give your fresh iPad a full charge before it's first use. Once your iPad is charged, unwrap your Pencil and plug it into the iPad Pro and charge it for use. Apple says that 15 seconds of charging the Pencil will allow you to use it for 30 minutes. If you want to charge your Pencil while the iPad is charging, you are able to plug it into a USB port and utilize the Apple Pencil Charging Adapter that's provided for use with a USB to Lightning cable. About 8 minutes should fully charge your Pencil.
Basic settings and your Apple ID
Your iPad Pro will display a hello message in multiple languages when you first turn it on.
There's an onscreen slider at the bottom of the screen, so with your finger flick it to the right. Next, select your language and then select your country or region. You will next want to choose a Wi-Fi network, so enter your details or ask your system administrator for login permission. Next, enable location services if that is something you desire, or disable it if you don't want the iPad to have access to your approximate location. You then have the option of setting up Touch ID. Use your fingerprint to set this option up, or again, you can skip this process if you desire. You will have the option to set up a passcode next, and once again you can skip this option as well. The next screen will allow you to restore from an iCloud or iTunes backup or set up the iPad as new. If you pick set up as new, and many people will, you can then add your existing Apple ID or create a new one. Setting up an Apple ID may involve giving Apple a credit card to pay for any apps you might purchase in the store.
Once you give the iPad your Apple ID you will have to agree to the terms and conditions. Make a decision if you want iCloud on or off and then I suggest you turn on Siri. Your iPad is now set up, but you may have to upgrade the system software, and the iPad will prompt you to do this if needed.
Download some drawing apps
Now that the business end of things is done, it's time to get creative! Plug in the Pencil to the iPad lightning port and pair the device via Bluetooth. Next, click on the App Store app on the home screen and locate the search bar. There are plenty of paid apps, but let's look at a few free options just to get acquainted with the Apple Pencil and the mechanics of the iPad Pro. Already on your iPad Pro is Notes. Notes is limited and basic, but it is perhaps the best first step in using your Pencil. A more advanced free option is Adobe Photoshop Sketch. There's also the free app Paper by FiftyThree, which will allow you to explore all of the artistic ideas that have been stuck in your mind. These more advanced apps will give you a very good idea of the potential of your new digital drawing tools. Now that you're all set up, draw as much as you can and explore the possibilities. Check back here at Blasting News over the next few weeks where there will be more in-depth articles about some of the more advanced paid apps available for the Apple iPad Pro and Pencil.
Click to read more
and watch the video
or