Raptors officially sign Norman Powell
The Raptors have officially signed point guard, Norman Powell to a 4 year, $42 million dollar extension.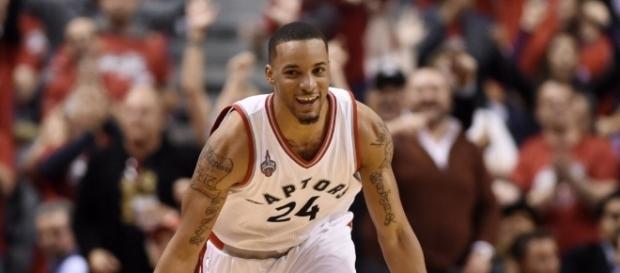 As basketball season is soon to start, the Toronto Raptors didn't waste any time by locking in one of their young players, Norman Powell. The deal is reportedly worth $42 million over four years. President Masai Ujiri according to an article by Victoria Nguyen from The Score, commented on the signing saying: "Norm is a young, athletic, and versatile player who has worked extremely hard to improve each season."
LETS GO!!!
Toronto Raptors and Norman Powell have agreed to a four year 42 Million dollar extension pic.twitter.com/ySZLK6FC57

— Raptors Nation™ (@WeTheNorth__) October 5, 2017
Why Powell has it all
When his name comes to mind, many will automatically think offence. Norman Powell has already shown that he has come out to play in preseason [VIDEO], by providing 16 points in the win against the Clippers on October 2nd.
Powell definitely deserved a props for the way he played in that game.
Norman Powell punches it home for the @Raptors! @NBATV #NBAPreseason pic.twitter.com/ZqJN3J34pc

— NBA (@NBA) October 2, 2017
Many even think that he should be placed in the dunk contest. Lets also not forget that the Raptors have showed pride in Powell, by trading both Terrence Ross and Cory Joseph. But Powell will have some work to do, to compete for a starting spot in the lineup, as Veteran C.J. Miles is also in the running. Norman has helped the Raptors win games effectively, with his speed, power and agility.
Stormin' Norman Powell looks good tonight, one of our sleepers pic.twitter.com/UNINHHaPOu

— BBALLBREAKDOWN (@bballbreakdown) October 2, 2017
He has been highlighted for his slam dunks and power that he brings to the game.
He isn't afraid to drive the ball to the basket and has also shown that he can outplay his opponents. He brings a lot of energy onto the court and he definitely resembles an inner Demar Derozan.
The future of the Raptors
Powell is without a doubt a fan favourite and likeable player on the Raptors. It has been expressed on social media that Powell enjoys the life of being a Toronto Raptor, as well as representing and cheering for other Toronto teams like the Toronto Blue Jays and the Toronto Maple Leafs. Everyone is aware of the slogan 'We The North', but with this recent signing, the trending hashtag is now #WeTheNorm. It is catchy and creative and it shows that fans are happy about the contract extension.
To the future of our franchise, the city loves you! @npowell2404 #WeTheNorm 🇨🇦 pic.twitter.com/d1fHOJC6nR

— OG (@RapsNationBruh) October 5, 2017
Powell is definitely a key player on the team that represents the Raptors future as he is only 24 years old. He still has a lot to show us this season and he will only improve as a player.
According to Basketball Reference, his 2016/2017 season consisted of him playing 76 games and averaging 8.4 points, 2.2 rebounds and 1.1 assists. He has definitely been a pleasant surprise for the Raptors. Toronto inevitably loves Norman Powell. The dude is a workhorse, and there's nothing local fans appreciate more than a player who works hard.
Click to read more
and watch the video
or