Kawhi Leonard's upcoming 5-year, $217MM deal puts Spurs' playoff streak in peril
Kawhi Leonard is now eligible for a designated super-max extension after earning his second All-NBA selection last Thursday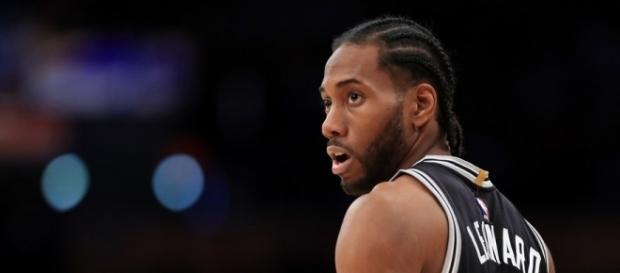 The San Antonio Spurs will have to pay #Kawhi Leonard more money in 2019 if they intend to keep their franchise player for more years. The 26-year old Leonard earned his second All-#NBA team selection on Thursday, making him eligible to a rare super-max extension contract.
Bobby Marks of the Vertical of Yahoo Sports noted that Leonard is now eligible for a 5-year, $217 million designated player extension after his latest inclusion in the All-NBA first team. The Spurs can sign their star player to that mammoth extension next summer, and it will kick in 2019.
Leonard, who averaged a career-high 25.5 points and 5.3 rebounds per game during the 2016/18 regular season, joined LeBron James of the Cleveland Cavaliers, James Harden of the Houston Rockets, Russell Westbrook of the Oklahoma City Thunder and Anthony Davis of the New Orleans Pelicans in the prestigious All-NBA first team.
Last year, Leonard also made it in the All-NBA and All-Defensive first team and won his second Defensive Player of the Year award.
Will Spurs give Leonard a super-max extension?
The biggest question now is will the Spurs be generous enough to offer Leonard that amount of money a year from now? While Leonard has emerged as the clear-cut best player on the team this season, Gregg Popovich's system is always predicated on team play and depth. Paying Leonard at least $43 million per year would surely compromise the Spurs' cap-room and ability to surround him with quality players. Moreover, it won't be shocking at all to see the Spurs' playoff streak dies if they pull the trigger on Kawhi's super-max extension.
The Spurs are not a traditional luxury tax-paying team. They have achieved an incredible level of consistency despite being a small market franchise because they drafted well, they kept their financial books in check, and they always sought for the middle-ground win-win deal (just ask Tim Duncan).
The jury is now out for Leonard to prove he is that typical Spurs star who always sacrifices for the greater good of the team.
Injury update for Game 3
After missing Game 2 with a sprained left ankle, Leonard is listed questionable for Game 3 of the Western Conference Finals at the AT&T Center in San Antonio, Texas. The former San Diego State star dropped 26 points in 24 minutes of the series-opener against the Golden State Warriors on Sunday. Unfortunately, he wasn't able to continue playing after tweaking his already injured left ankle twice in the game. The first on David Lee's foot while the second on Zaza Pachulia's following a controversial closeout from the Warriors big man. #Super Max