Predicting the five teams that will improve during the offseason
These fives teams will probably be the most active during the offseason to improve their rosters.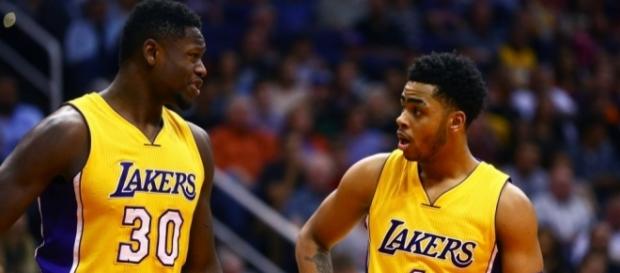 The offseason may be three months, but the lottery teams are already preparing themselves for the future, hoping to have an eventful summer. There will be a lot of talent available through free agency and trades this offseason, and these five teams have the best chance of snagging some of the top-tier talents.
Phoenix Suns
The Phoenix Suns are projected to have the sixth-most cap space going into the offseason, which gives them the luxury to add complimentary pieces for the young core. Obviously, Phoenix's motive will be to construct a team around Devin Booker, who had a fabulous sophomore year capped by a 70-poit performance.
The Suns have been known to chase top-tier free agents, as they were one of the few teams in the race for LaMarcus Aldridge a couple of summers ago. They will surely look to strike some pleasant deals.
Dallas Mavericks
After a rather disappointing season that was haunted by injuries early on, the Dallas Mavericks missed the playoffs but have the flexibility to bounce back next season. Dirk Nowitzki will be staying, and the team will try to bring in some young, established talent to help him push the Mavericks back into playoff contention. If there's one owner that's always looking to make moves, it's Mark Cuban. The Mavericks will, of course, have to make a decision on newly-acquired big man Nerlens Noel first before seeking another talent.
Miami Heat
The Miami Heat will position themselves to either land Carmelo #Anthony or Gordon Hayward, probably at the expense of James Johnson or Dion Waiters.
Tough decisions await Miami in the offseason, but they have a clear shot at improving their roster to become legitimate playoff contenders. Anthony might not be the ideal choice because he is aging, but Hayward would be a sufficient fit alongside Goran Dragic and Hassan Whiteside.
Los Angeles Lakers
The #Los Angeles Lakers had a much better season, which should help them attract more free agents this summer. Paul George, for one, has expressed interest in joining Los Angeles in 2018 when he is a free agent. However, Magic Johnson has already stated that he wants a superstar player this summer, and he probably would pursue George or Blake Griffin, who reportedly has an interest in L.A., to turn the Lakers into a winning franchise again. After many miserable summers, the Lakers are due to have a successful one under new management finally.
Boston Celtics
Although owning the best record in the Eastern Conference, the playoffs are proving that the Boston Celtics are far from being an elite team. Fortunately, they have many assets going into the offseason, including Brooklyn's first-round pick, which could be number one overall. Expect Danny Ainge to be a busy man this summer, attempting to attain superstar talent [VIDEO] using his valuable assets. It's insane how a first place team has the chance to become even better. It's all because of Ainge's smart moves he made a few years back. #NBA