'Vanderpump Rules' star Stassi Schroeder under fire for 'Nazi chic' photo
Stassi Schroeder is facing major backlash on social media after sharing 'Nazi' photo post.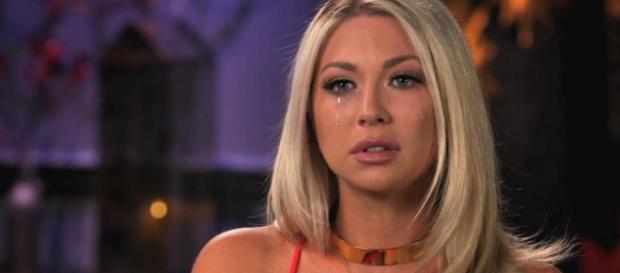 stassi schroeder is finding herself in the hot seat with fans, yet again, after sharing a seemingly insensitive post about her Nazi-inspired attire. Just as the backlash from her controversial comments about the #metoo movement came to an end, the "Vanderpump Rules" star is back under fire after sharing an image of herself, on Saturday, with the caption, "Nazi Chic." In the image, the longtime reality star was seen posing in front of a mirror alongside her co-stars Rachel O'Brien and Kristen Doute.
On January 8, Page Six shared a report regarding the 29-year-old reality star's post, revealing that Stassi Schroeder ultimately chose to delete the image caption and replace it with another message. That said, the damage was already done and after a number of fans and followers witnessed Schroeder's "Nazi Chic" post, they began sharing the hashtag "FIRESTASSI."
How did Stassi respond to the backlash?
In addition to removing her caption and replacing it with a new one, Stassi Schroeder reportedly responded to her critics by sharing a meme and appearing to poke fun at the situation.
In her post, which featured someone attempting to dodge through laser lights, Schroeder said, "Me trying to make a joke that won't offend anyone in 2017." The "Vanderpump Rules" star also posted an additional statement, that read, "My wife died in a laser accident, what is your problem?"
Fans weren't having Stassi's response
Although Stassi Schroeder attempted to shut down the backlash she caused with her "Nazi Chic" photo post, her fans and followers weren't having it and continued to blast her for her comment.
Fans pointed out that there was nothing funny about Nazis and said Schroeder could use a lesson in humility. Others sent tweets directly to Lisa Vanderpump and Andy Cohen, who produce "Vanderpump Rules," and requested financial repercussions be put into action.
As fans will recall, a number of advertisers chose to drop Stassi Schroeder several weeks ago after she made questionable comments about the #metoo movement. A short time later, Schroeder offered a public apology.
To see more of Stassi Schroeder, her friends, and her co-stars, including James Kennedy, Lala Kent, Jax Taylor, Brittany Cartwright, Scheana Marie, Kristen Doute, Katie Maloney, Tom Sandoval, Lisa Vanderpump, and Tom Schwartz, tune into new episodes of the sixth season of "Vanderpump Rules" on Monday nights at 9 p.m.
on Bravo TV.
Click to read more
You will watch a video to read the news
or