Duggar fans upset that they announced Kendra's pregnancy on Jordyn's birthday
They feel like she might have been forgotten and that everyone needed to give her more attention.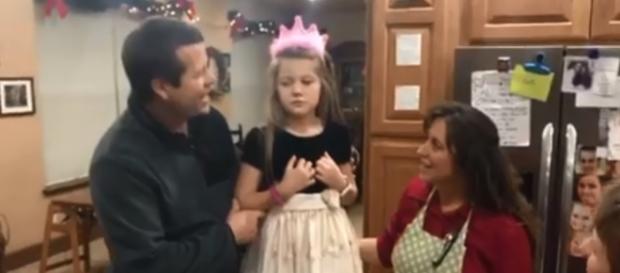 Jordyn Duggar recently had a birthday and some of the fans are really upset about how it went down. The Hollywood Gossip shared all about how the Duggar family actually announced Kendra and Joseph Duggar's baby on Jordyn's birthday. There was no reason that it couldn't have been a different day, but for some reason, they chose to do it on her special day. They do have 19 kids, but that being said there are a lot of others days in the years to announce pregnancies, courtships and weddings.
What has the fans so upset?
Earlier in the day, the Duggar family made this huge announcement about Kendra being pregnant.
Of course, everyone was really excited about the news. The thing is they didn't talk about Jordyn's birthday and it was her big day. Some fans started commenting even thinking that the family might have forgotten about it all together. It was much later in the day before they wished her a "Happy Birthday." They had a nice dinner at home with all of Jordyn's favorites that she picked out and showed a video of the birthday girl.
One fan said, "Common sense would tell them to delay announcing it for 2 days till Wednesday or the end of the week.
But I guess we can wish her if her family can't. Happy birthday Jordyn!" Some fans even feel like the Duggars only remembered Jordyn's birthday because people reminded them on social networks. This was all on the Duggar Family official page and it is known that Michelle Duggar does some of the updates on this page, so she easily could have seen what was being said and been reminded of her daughter's birthday.
Jorydn looked upset in her video
When they did share a video with Jordyn about her birthday, she looked really uncomfortable.
The thing is family friend Caleb Williams did end up speaking out and saying that this is just the way that Jordyn Duggar is and that she is shy around the camera. He also explained that she was just fine when the cameras weren't around, so there was nothing to worry about from what everyone saw in the video of her. Caleb also did shoot down rumors that he was there because he is courting Jana and said that they are just simply friends and nothing else.
What do you think of the Duggars making this big announcement on Jordyn's birthday? Do you feel like they play favorites? Sound off in the comments below on your thoughts, and don't miss new episodes of "Counting On" when it returns to TLC in February.
The new season will be here really soon and fans can't wait.