Amber Portwood went on a rant against MTV and her former boyfriend, Gary Shirley, on Monday, January 15, after seemingly watching an advance clip of the new episode. According to a new report, Portwood shared a series of expletive-filled tweets with her fans and followers and took aim at the network for turning her life into a joke and failing to be sensitive towards her mental health struggles.
"I've been through hell!" Amber Portwood began, according to a report by Hollywood Life.
Portwood, who shares a nine-year-old child with Gary Shirley, claimed in her posts that MTV has turned not only her pregnancy, but also her relationship, into a joke when it should be one of the happiest times of her life.
Amber Portwood was suicidal during her time away from Leah
Amber Portwood then said her life must exist so that people can tell her how bad of a parent she is to daughter Leah. "I went through depression!" she explained. Portwood continued on, suggesting that she feels as if people who are going through hell should keep it insider, rather than allow themselves to speak up and work through their issues.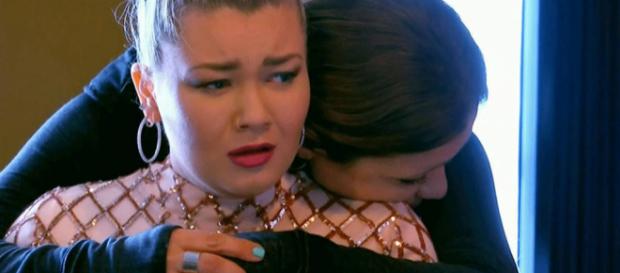 She also said that people should be able to talk about one another anyway they please, especially former partners. She, of course, didn't mean any of that and later called out Gary Shirley and his wife, Kristina Anderson, for acting as if she should have exposed her daughter to her depression when she was at her worst.
"Make sure when your suicidal that you always have your kid right next to you the whole time! It's very healthy for them!! Idiots," she wrote.
Amber Portwood then slammed Shirley and his wife for "talking s**t" about her on "Teen Mom OG" and said they were making money off of bashing her. She then said that without her, Shirley and his wife would be living in the ghetto if it wasn't for her.
Amber Portwood praises Andrew Glennon for fixing her
Speaking to her fans and followers, Amber Portwood said that her boyfriend, Andrew Glennon, was the reason she was able to pull herself together after struggling for some time with depression.
As she explained, Glennon showed her that her life was worth living. She also said she was thankful to him and credited him for keeping her alive for the sake of her daughter.
To see more of Amber Portwood, Gary Shirley, and their co-stars, including Farrah Abraham, Kristina Anderson, Catelynn Lowell, Tyler Baltierra, Maci Bookout, Ryan Edwards, Andrew Glennon, and Taylor McKinney, don't miss new episodes of the seventh season of MTV's "Teen Mom OG" on Monday nights at 9 p.m.
Click to read more
and watch the video