Jax Taylor thinks Lisa Vanderpump's house is 'scary'
'The Vanderpump Rules' star revealed that his 'Real Housewives' boss' luxurious home would be a 'scary house to live in.'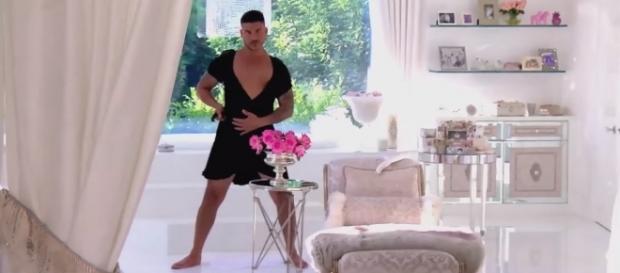 lisa vanderpump stars on "The Real Housewives of Beverly Hills" as well as her own spin-off series, "Vanderpump Rules." The reality star and her husband Ken Todd own multiple restaurants and are humanitarians.
Jax Taylor tells all about Lisa's home
One of Lisa's servers at her restaurant jax taylor, who stars on "Vanderpump Rules" and most recently, his own spin-off series, "Vanderpump Rules: Jax and Brittany Take Kentucky," sat down with Bravo's Daily Dish and revealed that he was super intimidated by her massively enormous home, which she calls "Villa Rosa."
Jax Taylor Reveals If He and Brittany Cartwright Are Broken Uphttps://t.co/qGyTAv3RZG

— Reality Talent (@RealityTalent7) September 28, 2017
Taylor admitted to feeling a little out of place whenever he visited Vanderpump at her home saying, "Every time we go over there, she goes 'You can go in the backyard or stay in the kitchen.' So I just stay in the kitchen."
On the last season of "Vanderpump Rules" Jax and a few other servers were at Lisa's house borrowing some clothes and costume jewelry from her closet for a cross-dressing bachelor party.
Taylor said that he had "never seen anything like" her gigantic, decked-out closet room and that "her bathroom is like the size of [his] whole apartment."
He described her home in Beverly Hills, California as having "like 100 rooms" with "a ton of mirrors" and all-white everything. Although Lisa's home is beautiful, he would not call it "homey," saying he felt like it belonged in "a museum."
The reality star also commented that he did not really know where Vanderpump's husband Ken Todd was always off to because he rarely saw him at the house but that he was aware of a pool house in the backyard that he has claimed as his "spot."
Jax seemed to think the size of his boss' house was "ridiculous" and wondered if she ever really used all of the space that she had, adding that it would probably be a "scary house" to live in and that he'd be "scared to go there."
Lisa Vanderpump's Home Makes This SURver Feel Like "It'd Be a ...https://t.co/hxepscjAHj

— Reality Talent (@RealityTalent7) October 2, 2017
He can only picture Vanderpump in a mansion
He mentioned that Lisa should definitely win the 'Most Likely To Live In A Mansion' category at the Real Housewives Awards this year because "she's Lisa Vanderpump" and "out of all of them, she's the one who should live like that, that's just who she is."
Thank you @LA premierflowers @Kevinlee
For prettying up my doggy center pic.twitter.com/J1TKIHCbBP

— Lisa Vanderpump (@LisaVanderpump) April 20, 2017
Vanderpump is up against her fellow Bravo stars Sheree Whitfield, Kenya Moore, Shannon Beador, Stephanie Hollman, Bethenny Frankel, and Charrisse Jackson Jordon for the "award."
The winners will be revealed during a special episode of "Watch What Happens Live" with Andy Cohen on October 4 at 11:15 p.m.
Click to read more
and watch the video
or