'The Young and the Restless' recap: Billy and Victoria team up to confront Cane
Villy came together and got Jesse to tell all. Next they went right to the Ashby home and told all to Lily.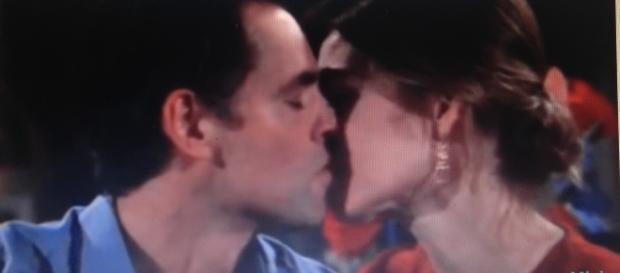 On Tuesday's episode of "#The Young and the Restless" Villy teamed up to expose Cane Ashby to wife. Victoria and Billy got the information they needed from Jesse, then went straight to the Ashby home. They are going to make Cane pay in a major way, by telling his secrets to his wife.
Victoria shows she is Victor Newman's daughter and Billy is impressed
In a surprising twist, Billy admitted that he admired Victoria for the one thing he used to criticize her for. He told his ex that she handled the Jesse situation just like her father would have. Viewers probably had to stop, rewind and listen to that again. It was indeed a classic moment when the Villy bond became stronger.
Billy Boy saw something in his former spouse, that aroused him in a way that was different than the attraction he has for Phyllis. Here is how it all went down.
Once Jesse admitted receiving money from Cane, Victoria pulled out her corporate check book. She told the cameraman she would pay him, double the amount of money he received from Mr. Ashby. Jesse handed over the flash drive of the footage from California and announced he would need $50,000.00. At this point, Victoria kicked him out of the office without paying a dime.
Villy fans may be getting what they want
Billy had a look on his face that showed he was truly impressed. He told Vicky that she did exactly what Victor would have done, and said he liked the way she got Jesse to tell how much black mail money Cane gave him. He then told Victoria that they worked well together, and she seemed pleased but remained calm and reserved.
Had Billy taken his ex-wife in his arms and kissed her, Villy fans would have been well pleased.
it seems the writers may be giving those who want Victoria and Billy together, the super couple that they desire. When these two showed up at Cane and Lily's front door they looked like mob enforcers coming to let someone know their time was up. On Wednesday's episode of "The Young and the Restless," the entire truth comes out, and Lily realizes her husband used money from their children's tuition fund to pay hush money.
#Billy and Victoria apologize to Lily but say they believe she had a right to know the truth. After they leave Lily kicks Cane out of their home, and later must tell the ST twins. Phyllis does not want to hear about any of it when Billy tries to tell her, but Abby listens intently to Victoria and the sisters bond. Stay tuned each weekday at 12:30 p.m. EST for more episodes of "The Young and the Restless." #Villy fans