Kourtney Kardashian boasts weight loss and new beau Younes Bendjima
'Kardashians' star Kourtney Kardashian enjoys new bf Younes Bendjima and weight loss. Reality TV star swears by fat-burner and not plastic surgery.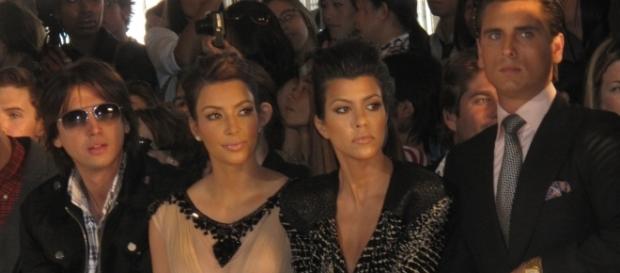 When you hear the name Kardashian, you don't think weight loss but instead gain. The reality TV divas are known for padding their curves with all kinds of plastic surgery. But eldest #Kourtney Kardashian has found a simple way to subtract belly fat and cellulite. How does the "KUWTK" star trim the tummy? Liposuction helps but so does one crazy-easy food swap.
Kardashians love big booties, hate big bellies
The Kardashians love big butts and they can't lie. Most of the big sisters have undergone butt lift procedures. Even Kylie Jenner, 19, appears to have had butt implants, thanks to mama Kris Jenner letting her baby girl get plastic surgery at 17.
The "KUWTK" stars like large breasts, too. Kim Kardashian has created an hourglass figure that nature never intended with breast implant surgery, beefed up buns, and maybe a tummy tuck. But one thing the family eschews is obesity in the tummy, and Kourtney Kardashian has found a way to bust that gut.
Kourtney Kardashian: belly fat to belly flat
A boob job helps the reality television [VIDEO] mom appear to have a flat tummy, for sure. Kourtney didn't mention that but she did share a food-swap trick. Does the "KUWTK" celebrity cut carbs? Perhaps, but that's not her secret weapon. Maybe she dropped refined sugar? Could be, but it's not the food she mentioned.
The enemy is coffee and her replacement is green tea. It's obviously not caffeine that's the problem as green tea is a bit caffeinated.
Kourtney isn't sure how it works. She just knows it rids her of belly fat and cellulite.
Kourtney Kardashian finds fountain of youth?
Ms. Kardashian also touts green tea as a youthful elixir. Whether it's the Botox or coolsculpting or what, Kourtney does look younger than her 38 years. Maybe it's losing Scott Disick who was becoming a real drag with his partying. He can really whoop it up but pretty soon excessive drinking will take its toll on even the babiest of faces. Kourtney has also found romance with Younes Bendjima. The reality TV queen is bragging up her 23-year-old boy toy on Instagram, and the two are official now as per social media.
Silicone in, cellulite on?
One big irony with the Kardashians' body obsession is how they Frankenstein them. All the girls profess to work out at the gym (but are actually seen posing for Snapchat rather than exercising). Khloe Kardashian talks like she's got an eating disorder or anorexia despite the "Revenge Body" thing. And why would you implant a bunch of silicone or fat when weight loss is supposedly your big goal? Kim Kardashian got shade for "cellulite" which was probably sagging implants. Khloe's had so much pumped in that it apparently began to leak. Maybe the "KUWTK" girls should concentrate on taking care of their bodies instead of cannibalizing them? #Keeping Up With The Kardashians #Weightloss