Khloe Kardashian and Tristan Thompson get their own reality spin-off series
The 'Keeping up with the Kardashians' brand has now added a new reality show for Khloe and Tristan which is scheduled to be a six-part series.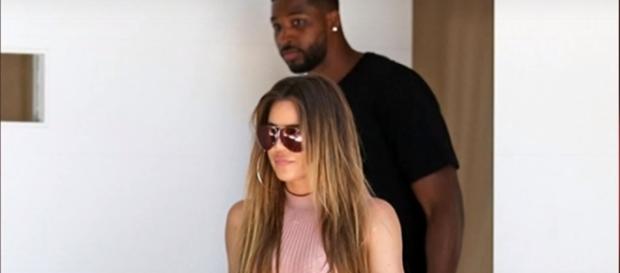 Khloe Kardashian has been with her latest boyfriend, NBA star, Tristan Thompson for about 11 months now. The couple seems to now be taking their relationship to the next level. There have been rumors that the two have already had talks about marriage. Khloe's also been supportive towards Thompson's career by showing up to several of his Cavaliers games during the playoffs. Tristan however, kept a low profile on this past season of "Keeping up with the Kardashians." Khloe emphasized on one of the episodes that the two did not want to rush into that kind of exposure too soon in their relationship.
Now, it appears Kardashian must have done what it took to convince the former NBA champ to do otherwise.
According to "The Inquisitr," the famous couple has received their own reality TV spin-off series. The show will reportedly include Thompson's seven-month old son Prince and the child's mother. It was reported that Khloe pushed for the two to be included to avoid any drama or hold-ups in production and to show the rest of the world how good of a father Tristan is to his boy.
Well that didn't take long! Khloe and Tristan getting their own reality show! https://t.co/wHaACzFbg1 pic.twitter.com/gWYmoDCjw6

— Wetpaint (@WetpaintTV) August 5, 2017
Moving on from Lamar
Of course, Khloe's dated other guys since she and her ex Lamar Odom split four years ago. Some of those guys like French Montana have gone on to appear on "Keeping up with the Kardashians," but none have given a substantial amount of camera time like Lamar did during their marriage.
Although the couple has been separated for a few years, they have still yet to officially finalize their divorce. Odom has been working to get his life back on track and is planning to release a tell-all book soon about his life and relationship with Khloe and the Kardashian family. Khloe has not yet shared her opinion on the matter.
New post (Wendy Williams Grills Lamar Odom on His Relationship With Khloé and Falling ...) has been published on - https://t.co/IT4XHOoWNe pic.twitter.com/sOCU8vlQXe

— Urban News Online (@1urbannews) June 29, 2017
Finding true love with Tristan
It's been a tough stretch in the love department for the 33-year old businesswoman since her separation from Lamar. Her previous relationship with NBA superstar James Harden did not work out the way she'd hoped, but now it appears Khloe has found the next basketball star that is willing to settle down and tie the knot with her again.
According to "TMZ," the couple was spotted about two weeks ago searching for a new home together.
One place, in particular, was worth a reported $9 million. It also came equipped with a nicely designed basketball hoop for Tristan. It is not yet known if that will be the place he and Khloe will end up purchasing. But whenever they do finally choose one, it is expected to be the home base for their new reality spin-off series.
The L.A. home that Khloe Kardashian and Tristan Thompson might buy will make your jaw drop. (via @TMZ, @TMZ_Sports)https://t.co/PuFshG48BR pic.twitter.com/WQN5DVfIHe

— NESN (@NESN) July 20, 2017