Ben Affleck and Lindsay Shookus enjoy first vacation in Naples, Maine
The new couple Affleck and Shookus were reportedly spending their first vacation together in Maine.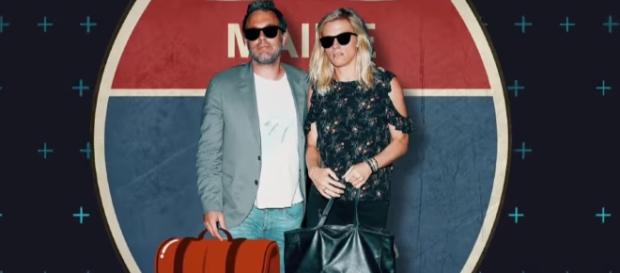 #Ben Affleck and #Lindsay Shookus were spotted enjoying their first vacation together in Naples, Maine over the weekend. It seemed that the new couple has continued to enjoy their summer of love together. A friend of Affleck has recently told People that the actor has just finished filming "Justice League" and is currently enjoying summer with the "Saturday Night Live" producer. Another report has further shared that the popular actor has been enjoying most of his time with his new romance and it is no longer strange if both are seen out in the public together.
Spending time with Lindsay
Amid his busy schedule, Affleck has always made it sure that he can give his time to both Shookus and to his family.
A report from People has revealed that the "Justice League" actor was once spotted in the liquor section of The Umbrella Factory Supermarket on Saturday. Jenna Noyes, the store employee, posted the photo of her with Affleck on social media while leaving the caption, "Met Ben Affleck at work today." However, it has been noticed that Noyes deleted her post immediately.
Ben Affleck and Lindsay Shookus took their romance on the road for a getaway to Maine:https://t.co/8o35xcHxWG pic.twitter.com/n9Biv3F1xs

— E! News (@enews) August 1, 2017
Meanwhile, it wasn't clear yet for whom they were buying the two bottles of alcohol. It has been reported that the couple has also visited the same store on the day before Affleck bought the liquor. To recall, the actor has already opened up about his treatment against alcohol addiction.
Hence, it would be safe to say that Affleck and Shookus might have bought the alcohol for another person.
Health care
Recent news has started to surface online that Affleck and Shookus have been enjoying their time together. Hence, their newest vacation in Maine is yet another report that has left their followers happy. In the meantime, it has been reported that the "Batman" actor has been focusing his time on improving his lifestyle. He revealed that he had gone through treatments to fight against alcohol addiction. Since he went through rehab, Affleck was reported to have started trying to live a healthy and a happy life.
Further, it was also reported that he is now working on his amicable relationship with former wife, Jennifer Garner. Both were reported to be working well on co-parenting their three kids; Violet, Seraphine, and Samuel. Another source has shared to US Weekly that Affleck is trying to live a normal life and focusing his attention more on his family and Shookus. After the long-time speculations of dating each other since April, Affleck and the "Saturday Night Live" producer have finally stepped out in public and both seem proud of their relationship. #Naples Maine