'Chrisley Knows Best': Todd's troubled son Kyle is sober
Fans have wondered and worried about Kyle Chrisley over the years but now it looks like Todd's son is back on the right track.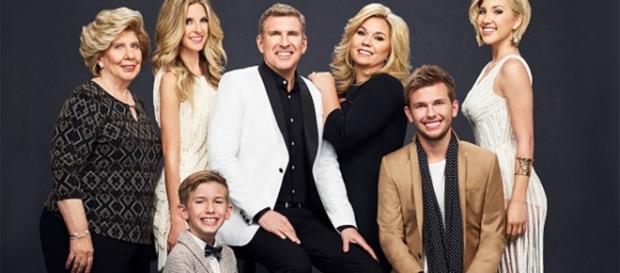 Fans have been wondering how #Kyle Chrisley has been doing since he's not been seen on the family reality show "#Chrisley Knows Best" since Season 1. It was already known that there was bad blood between #Todd and Kyle with the elder Chrisley even gaining custody of Kyle's daughter Chloe for some time.
Now it looks like things are back on track for the eldest Chrisley son. Radar Online reports that Todd has overcome many obstacles in order to stay sober. The troubled reality star revealed that he has been clean for four years now. On top of that, Kyle says he wants to have another baby with his wife, Alexus Chrisley.
Kyle Chrisley owns his own home
In addition to his not-so-new but still wonderful sober status, it looks like Kyle is a new home owner.
The younger Chrisley just purchased a 3,000 square foot home in Georgia. After having moved in just last week, Kyle has said that he and Alexus are already in love with their new home.
Kylie Chrisley also said that he can't wait to get settled in. His latest dream is to start a family with his wife. Kyle believes that Alexus will be a great mother.
For those who might be scratching their heads right now, Alexus isn't the mother of Chloe. The girl's real mother's name is Angela Johnson. Chloe's mom has never appeared on "Chrisley Knows Best" but based on her social media posts from years back, it doesn't look like she minded letting her daughter be on the show.
The story behind Todd and Kyle becoming estranged
Back in 2013, Kyle Chrisley wasn't so sober. Todd's son lost it all after he reportedly threatened to kill his famous dad while he was high on drugs.
As a result, Kyle ended up in the hospital. He lost custody of his daughter Chloe and ended up getting fired from "Chrisley Knows Best."
Kyle is still estranged from his famous family but he is no longer holding a grudge. He admitted that he doesn't talk to the rest of the Chrisley clan at all. However, he doesn't have any ill will toward them. He said, "I wish them nothing but the best."
According To Report, Todd Chrisley's Son Kyle Is Ready For Another Baby Despite Lost Custody Of Daughter Chloe https://t.co/XSpDlMw6lr pic.twitter.com/Ih7vXGMbfP

— Celebrity News (@UpdatedCeleb) July 6, 2017
Kyle admitted that he has a great career now and that he loves the life that he's currently living. From here on out, Kyle has said that he just wants to be a great husband to Alexus and a great father too. It doesn't look like Kyle Chrisley is interested in fixing his relationship with his famous family. The way things are looking right now, he seems to be perfectly happy just as he is.
The way things are looking right now, he seems to be perfectly happy just as he is. Hopefully, something will change in the future so that Kyle and Todd Chrisley can reconcile and be a family again.