Joy-Anna Duggar won't get to wear pants after Austin Forsyth wedding
For the Duggar women, modesty is key and pleasing their husbands is of the utmost importance.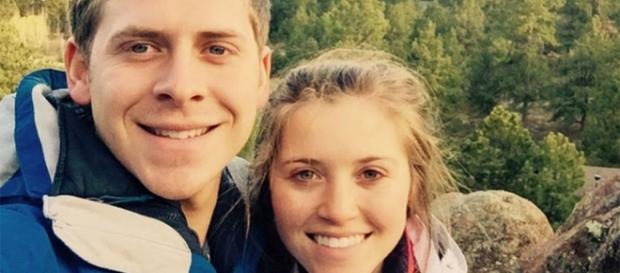 Jinger Duggar made some pretty big waves after marrying Jeremy Vuolo when she started popping up in pictures wearing pants. Since then, there have been a lot of questions from Duggar fans, who want to know why Jinger is rocking jeans and khakis while her sisters are still sporting longer than knee length skirts and dresses.
When Joy-Anna tied the knot with #Austin Forsyth less than a month ago, many Duggar followers wondered whether Joy-Anna would follow in her big sister's footsteps and start changing up her own wardrobe. It turns out that Joy-Anna has no plans to trade in her skirts for the comfort of fully covered legs and her husband may be the reason she hasn't changed her style.
Wives, submit to your husbands
As many Duggar fans know, the conservative family follows the Quiverfull movement, which leans heavily to the conservative side of Christianity. In that, the Duggars believe strongly that wives should submit to their husbands and do everything they can to please them. They believe that the man is the head of the family and sets the rules.
When Joy-Anna was unmarried and living at home, she obeyed her father Jim #Bob Duggar's rules. In the Duggar family, the women dress modestly, wearing skirts and dresses but not pants. There are several other rules that Jim Bob has imposed in order to keep his large family in line and looking like Bible-following family that they are.
After marriage, the Duggar daughters move out and into the world with their new husbands.
At that point, it's up to their husbands to set the ground rules and for them to follow them. As we learned when Jinger married Jeremy, he doesn't mind letting his wife dress a bit more casual. Jinger has been photographed in pants several times since getting married.
What does Austin Forsyth want?
According to The Stir, even post-marriage, Joy-Anna Duggar will continue to wear skirts and dresses. She won't be rocking pants like Jinger. Why? Because Austin Forsyth likes his wife to wear dresses.
Joy-Anna has even talked about fashion and what she likes on "Counting On." She said that she doesn't really like wearing dresses but that Austin likes them so she continues to wear them. She even went so far as to say that she's not very fashionable so she just wears "what Austin likes."
The reaction to Joy-Anna's admission that she just wants to please Austin has been met with mixed reviews. Some Duggar fans have applauded the 19-year old newlywed for starting right off trying to please her man. Others have been critical, claiming that Joy-Anna isn't even old enough to know what she wants yet. It is pretty clear that she wants pants, though. She just isn't allowed to wear them. #joy anna duggar