Stephen Colbert exposes Donald Trump's paranoia over first foreign trip
With Donald Trump heading off on the first foreign trip of his presidency, Stephen Colbert didn't hold back his thoughts.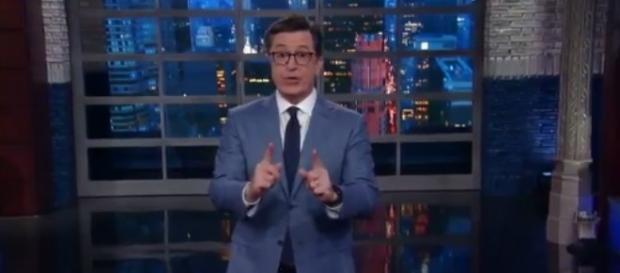 Donald Trump left Washington, D.C, on Friday to embark on his first foreign trip as commander in chief. As chaos continues in the White House, Stephen Colbert was quick to highlight the president's troubles.
Colbert on Trump
It's no secret that Donald Trump has struggled to shake off the ongoing speculation that his campaign, and now administration, is linked back to Russia. Despite his constant denial, the former host of "The Apprentice" has been backed into a corner as new evidence is released on an almost daily basis that contradicts with what the administration has put forward.
In the latest round of news, it was uncovered that Trump shared what was described as "highly classified" information with the Russians during a meeting at the White House last week. In that same meeting, the New York Times reported on Friday that the president went as far as to criticize James Comey, appearing to brag that he fired him over the current Russian investigation, while labeling the then FBI director as a "nut job." Follow-up reports also noted that a new "person of interest" in the Russian probe is actually a close adviser in the White House, with unconfirmed rumors claiming it could be Trump son-in-law Jared Kushner.
With the drama and scandal reaching a boiling point, the issues were front and center during the May 19 edition of "The Late Show with Stephen Colbert" on CBS.
Tonight: as Trump leaves for his first overseas trip as President, even his own team admits there's not a lot of room to fail. #LSSC pic.twitter.com/K3iUSB0D7S

— The Late Show (@colbertlateshow) May 20, 2017
As part of his opening monologue for "The Late Show," host Stephen Colbert took Donald Trump and his administration to task over his current foreign trip and the controversy that has followed.
"According to one official involved in the planning, 'this has to go well, there's not a lot of room to fail,'" Colbert said, mocking the voice of the White House adviser.
Besieged at home, President Trump sets off for "do-or-die" foreign trip https://t.co/KwPaaeD3ns pic.twitter.com/72RWHhtYrx

— CNN (@CNN) May 19, 2017
"Hey, Trump has proven he doesn't need much room to fail. Just 140 characters seems to do it," Stephen Colbert said. After citing a recent story that officials at the National Security Council have been forced to give Donald Trump reports about his foreign trip that include his named mentioned often, Colbert was quick to fire back. "Apparently the only thing that can overcome Trump's short attention span is his crippling narcissism," he added.
Trump knows what to pack on his first foreign trip as president. #LSSC pic.twitter.com/0Mbh6s4UTy

— The Late Show (@colbertlateshow) May 20, 2017
At this point, Stephen Colbert played a clip from a recent press conference where Donald Trump appeared to mix up his words, while admitting, "there is no collusion, certainly between myself and my campaign." Mocking Trump for his obvious blunder, Colbert rhetorically wondered, "OK, any collusion between your mouth and your brain?"
Trump: There is no collusion between certainly myself and my campaign. #LSSC

Colbert: pic.twitter.com/AUv37wXak6

— The Late Show (@colbertlateshow) May 20, 2017
Moving forward
As high-profiled names like Stephen Colbert continue to mock the president, Donald Trump has even bigger issues to worry about.
Over the next week and a half, Trump will meet several world leaders during his trip, many of whom he has badmouthed in the past. While it's unknown what the state of the White House will look like upon his return, the odds are not in Trump's favor with the Russian scandal gaining more steam by the day.