'Once Upon a Time' moves to Fridays on ABC in fall 2017
Will the Friday night death slot prove to be fatal for 'Once Upon a Time' Season 7?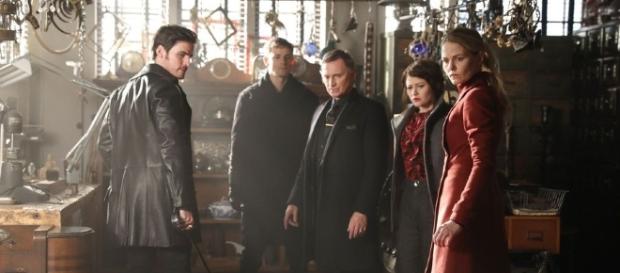 "#once upon a time" fans were ecstatic to hear the show would get a seventh season. Even though the majority of the main cast is leaving, the show is focusing on a complete reset to introduce new characters. However, the latest news about #ABC's fall 2017 schedule has left some fans disappointed and not hopeful about the future of the show.
'Once Upon a Time' Season 7 moving to a death slot
Sunday nights were already questionable on ABC, but now the hit fairytale show is moving to the official death slot. Come fall 2017, it will air on Fridays at 8 p.m. on the network, suggesting that the network anticipates the ratings won't be good.
This is usually the night given to appease fans of a show.
"Once Upon a Time" isn't the only show to get the disappointing Friday night slot, leaving fans worried. "The Vampire Diaries" and "The Originals" were moved to Friday nights during the 2015-2016 season and stayed there for the 2016-2017 season. "Reign" also go the Friday night slot on Monday night due to poor ratings. "The Originals" is the only show of the three on The CW being renewed for 2017, making it clear that the Friday night is a troublesome spot.
Can the reset bring the fans back?
"Once Upon a Time" has suffered from declining ratings for a while. The first couple of seasons were perfect. They told the story of Snow White, Prince Charming, and the Evil Queen, as they battled against each other for their own happy endings.
Backstories were created for each of the characters and it didn't take long to find out that the main protagonist, Emma Swan, was the daughter of the Charmings.
However, the show started to lose some of its fairytale focus in Seasons 4 and 5. There was more focus on Emma as the Savior, rather than the main fairytale characters. With a sharp drop in ratings for Season 5, fans started to wonder if there would be a Season 6. Luckily, there was another season, bringing all the characters back and pulling the story back to the Charmings and their quest for a happy ending.
"Once Upon a Time" Season 7 was questionable for the last few months. There were plenty of people suggesting that it would becanceledd due to the ratings. However, ABC decided to make a shocking renewal, despite only the Evil Queen/Regina, Hook, and Rumple returning from the main cast list. The Season 6 finale would have made an excellent series finale, as it wrapped the Charmings' storyline and set up the completely new storyline for Season 7.
Will this work? Fans aren't too sure. Shows have tried complete resets in the past, but failed after a season or two. One of the latest to try it was "Army Wives," but fans didn't take to the new set of wives and didn't continue tuning in. The future doesn't look good for "Once Upon a Time" with the Friday night death slot. #OUAT